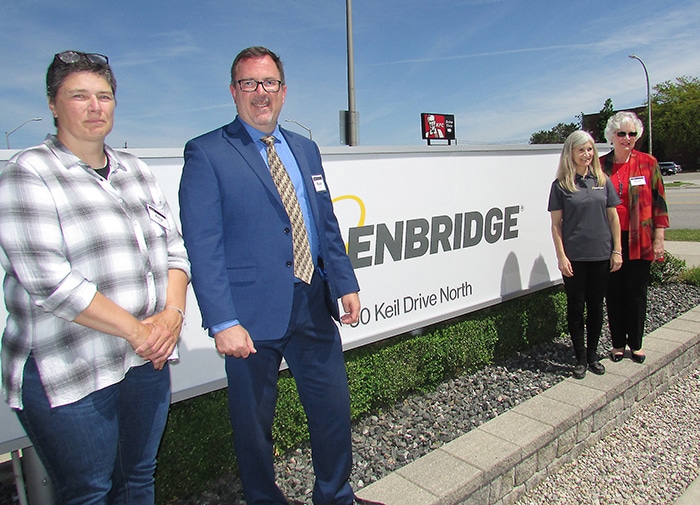 As Enbridge officials celebrated the name change at the former Union Gas headquarters on Keil Drive Friday, they also reiterated the company has no plans to leave Chatham.
There are currently more than 840 Enbridge employees in Chatham-Kent. Cynthia Hansen, executive vice-president and president of gas distribution and storage, stressed the company may be adjusting its assets, but has no reason to leave Chatham-Kent.
"They are dedicated, hard-working individuals who make a huge difference in the community," she said. "We want to recommit to the community. We're committed to maintaining a substantial presence here."
From supporting various local charity efforts, including the United Way, Enbridge also hopes to continue the path Union Gas has followed for years.
"Our Helping Hands program helped with over 50 projects in Chatham-Kent last year," Hansen said. "We want to continue to provide energy in the community."
She added the plan is to maintain the community outreach.
"We continue to participate in various leadership roles and many other opportunities," she said.
Hansen said Union Gas' legacy with the region extends for more than a century.
Darrin Canniff, mayor of Chatham-Kent, said he looks forward to another 100 years from Enbridge.
"Enbridge is a critical piece of the community moving forward. We want to see people prosper here," he said. "We're excited."
Canniff said the municipality and Enbridge have met to discuss opportunities to collaborate as well.
"I know the awesome people who work here and the talent," the former Union Gas employee said.
Hansen said Enbridge has a $19 million project underway in Chatham-Kent, expanding rural delivery and improving distribution of natural gas.