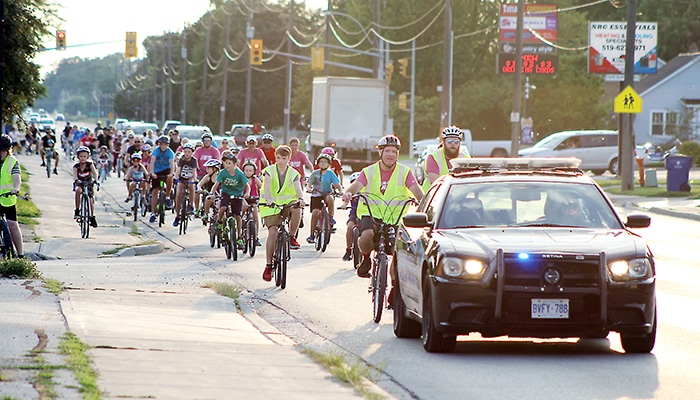 This summer, Community Living Wallaceburg is at it again, the third year in a row, hosting the 3 Rivers Roll Bike Party.
The event brings together people of all ages, abilities and bikes to have fun and discover more about the agency and Wallaceburg, going to areas that they otherwise may not have visited before.
The first event is June 18 at the Wallaceburg Legion with a BBQ at 5 p.m. and the ride leaving for 7 p.m.
"We are excited for this year as we have added a new element of theming each event. This gives the bike riders a unique experience throughout the summer. Our first ride is themed Health and Wellness with activities such as yoga, exercise demonstrations, a gymnastic centre, a sensory area and much more," Alisha Allaer, communications and fund development associate at Community Living Wallaceburg, said in a media release
The event is not a race, but rather a slow roll promoting inclusion, socializing and community camaraderie. And it's free.
"We're so pleased that the community embraced the idea of this event the past two summers. Everyone had a great time and really got into it by bringing their own music," Allaer said. "This event is all about inclusion and welcoming everyone."
While there is no fee to attend, donations are being accepted to help continue to raise funds to find ways to overcome barriers for people with developmental disabilities. Support helps Community Living Wallaceburg continue to invest in creating opportunities for people to participate in recreational and social activities.
The organization has plans under way to host two more 3 Rivers Roll bike parties, one on July 17 at The Oak Retirement Village and one Aug. 15h at Eternities Touch. Further information can be found at www.3RiversRoll.com.
Comments
comments