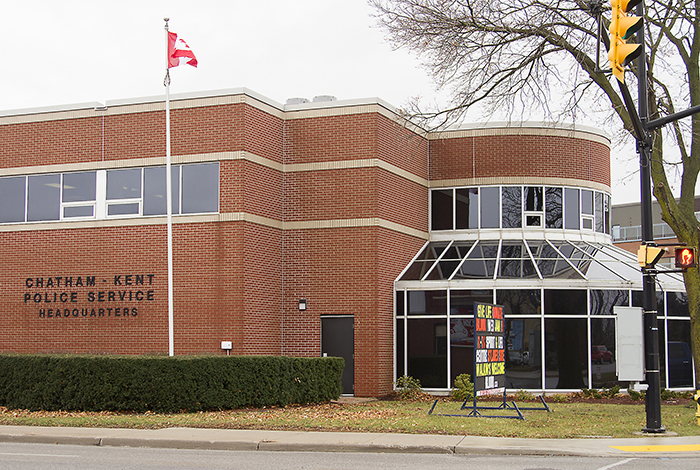 An anonymous letter delivered to The Chatham Voice raises serious allegations against members of the Chatham-Kent Police Service (CKPS).
What's more, the writer says he or she has been a member of the service for more than 10 years, and "enough is enough."
Among other complaints about senior administration, the letter writer alleges an officer leaving a retirement party at the Imperial Club two weeks ago was involved in a serious car accident in which alcohol was a factor.
The writer further alleges an off-duty senior ranking officer was on the scene and "pressured" a lower-ranking officer who investigated the accident scene into making a decision to charge the driver with careless driving instead of arresting him for impaired driving.
The letter writer calls for the incident to be reinvestigated by police and action taken against the officers he or she alleges covered up for a fellow officer. In stating why he or she didn't sign the letter, the writer wrote "it's just not a safe atmosphere to speak up."
Chief Gary Conn, when asked about the incident, confirmed he received a call about the car accident the day after it occurred, and immediately initiated a "chief's complaint," which begins an internal investigation by the Police Standards Unit of the CKPS. He also confirmed the three officers involved – the driver, the off-duty senior officer and the investigating officer – are all subjects in the investigation.
"All this person (who wrote the letter) had to do was come forward," the chief said. "We take these allegations very seriously. I can confirm we didn't dismiss these allegations when they came forward, but instead, in less than 24 hours, launched an internal investigation surrounding the allegations by our Professional Standards Unit and, at this time, because it is still an active investigation and I have yet to see or read the final investigative report, I cannot provide details to ensure we do not jeopardize the integrity of this investigation."
Conn, the CKPS Police Services Board, the Chatham-Kent Police Association, Mayor Darrin Canniff and The Chatham Voice all received copies of the letter last week.
"When it comes to professional standards and dealing with allegations of misconduct, as chief of police, the number one thing I want to do, if allegations are substantiated, is correct the inappropriate behaviour. Number two, I want to hold that person accountable for his or her actions, and send a strong message to the rank and file that this type of behaviour will not be accepted, and if you choose this path, then you, too, will be held accountable for your actions. Finally, when it comes to professional standards and the professionalism of our service, it is paramount that I, as chief, maintain public trust and confidence in their police service," Conn said in an interview with The Voice.
"So when it comes to incidents of this manner, we take them very seriously, as you might expect, and as I hope the public would expect," he added.
According to statistics from 2018, Conn brought forward complaints against CKPS members on 76 occasions, and only in one case did the complaint proceeds to a Police Services Act hearing. He said most of the complaints are found to be vexatious, frivolous or unsubstantiated, and if the allegations are substantiated, result in informal discipline where all parties agree to the discipline, such as loss of rank.
Police Services Act hearings are a matter of public record and the officers' name and charges are made public, according to the chief, however, internal investigations initiated as a chief's complaint are not made public and appear in the year-end report statistics with how the cases are resolved.
The types of incidents Conn said he has initiated internal investigations into in the past against civilian or service members include discreditable conduct, negligent in duty, breach of confidence (divulging or leaking confidential information without proper authority to any unauthorized person or media), corrupt practice and unlawful or unnecessary use of authority/excessive use of force.
Comments
comments
« Still no answers on well water concerns Crime of the Week »