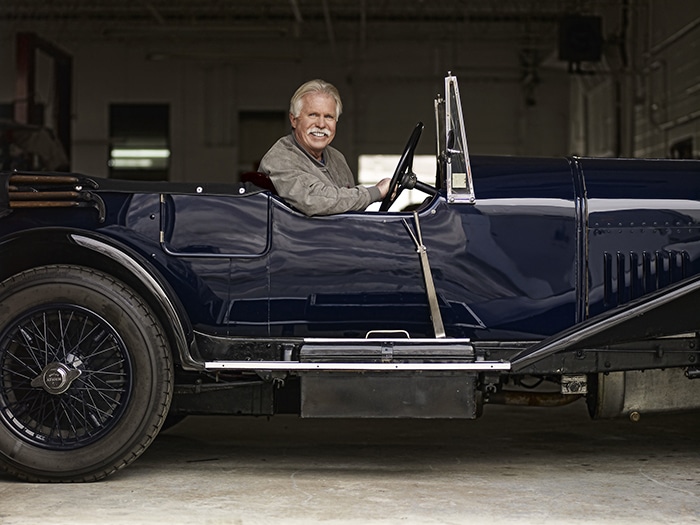 As the RM 40th Anniversary weekend quickly approaches on June 21-22, RM Sotheby's and RetroFest continue to release additional details.
In Tecumseh Park on June 22, there will be a host of free activities alongside the Kent Historic Auto Club (KHAC) RetroFest car show in downtown Chatham.
The annual Optimist Soap Box Derby and Ms. RetroFest contest, staples of the RetroFest weekend, will take place at 9 a.m. and noon respectively.
As a special addition for the RM 40th Anniversary celebration year, the park will showcase a Country Hoe Down with local bands The Chasers and Dirt Country. The music will begin at 2 p.m. and a beverage garden will be available for attendees to enjoy refreshments throughout the performances.
Hagerty Insurance will also join in the fun at Tecumseh Park. Hagerty is dedicated to helping ensure the future of the classic car hobby by Driving the Passion for Classics and providing young people unique access to classic car-related experiences. At the Hagerty Insurance Car Shop, children can learn how to change a tire and change the oil of an engine, helping to foster the next generation of the collector car hobby.
Just down the road at RM Sotheby's headquarters, Hagerty will also host Ride and Drives where those new to the hobby can enjoy a ride in iconic classic cars.
A free shuttle from Downtown Chatham to RM Headquarters will be provided. A shuttle schedule and map is available at rm40th.com.
Another new attraction to celebrate the RM 40th Anniversary will be the Lego Area. This will be an opportunity for kids to interact with Lego Specialists and build cars and other innovative Lego designs before racing them on a Lego racetrack.
Also new for 2019, the park will feature The Reading Dome, home to comfy chairs where children can enjoy books as read aloud by special guest readers.
The Chatham-Kent Public Library will also be hosting their Maker Space activities for children, with plenty in store for the younger classic car enthusiasts to enjoy.
Attendees can also look forward to the Photo Lane where families can take memorable photos with characters from childhood favourites including Bugs Bunny and Batman, as well as a children's paddle boat pool, a Zorb pool, and the RetroFest favourite bouncy castles and zip line.
TJ Stables will also be showcasing pony rides and a petting zoo.
There will be food trucks on hand and vendors in Tecumseh Park throughout Saturday as well.
"We wanted to offer families an experience in the park this year that will be unforgettable," said Rob Myers, Chairman of RM Sotheby's, in a media release. "This is a special year for myself and my family. Our family enjoys RetroFest every year and I hope the community will enjoy this year's edition more than ever."
The KHAC Car Show will also feature celebrity judges, including none other than Wayne Carini, host of hit TV series Chasing Classic Cars.
Carini is an expert car restorer, Ferrari enthusiast and an American TV personality. He has done body and paintwork on rare car collections owned by David Letterman, tennis great Ivan Lendl and the DuPont family. He has been featured in the New York Times as well as numerous automobile magazines, starred in two one-hour television specials on Discovery's Velocity channel, and is the host of Chasing Classic Cars, in its 13th season, also on Velocity.
Carini is a long-time friend of Myers and the RM Sotheby's team, who look forward to welcoming him to the Classic Car Capital of Canada.
The Car Show will also host Hagerty's Youth Judges program. Designed primarily for youth ages eight to 14, the Youth Judging Program brings the world of classics to a kid-friendly level.
The Youth Judges are guided through the show field as a group to pre-selected show cars and interact with owners, allowing the judges to learn details, history and fun facts about each. A simplified score card is used, which highlights five basic categories.
And new this year will be a prize for one lucky Youth Judge participant.
All of these activities will follow and precede two concerts on the 40th anniversary weekend, with Sam Roberts Band and local act Walkin' 47 performing in Tecumseh Park on the evening of June 21, and Big Sugar and local act Superfly performing at the Capitol Theatre on the evening of June 22. Tickets are available at cktickets.com.
The RM Sotheby's team looks forward to celebrating with the Chatham-Kent and collector car community. Additional information including a full schedule and the weekend's community activities and entertainment can be found at rm40th.com.