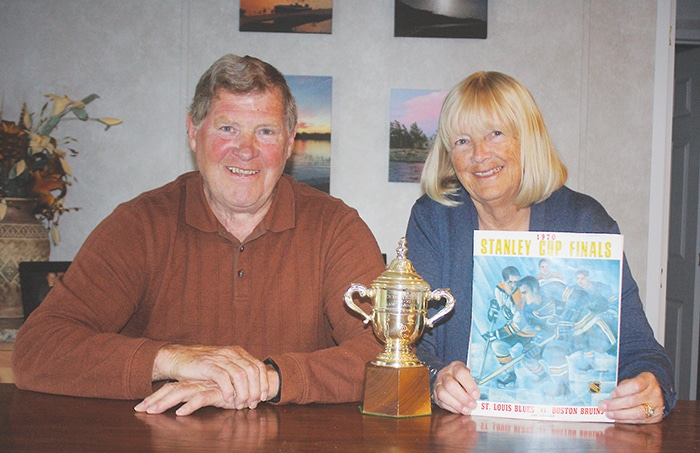 One of the most iconic moments in National Hockey League history happened 49 years ago, as old-time hockey fans vividly remember the sight of Bobby Orr flying through the air after scoring the Stanley Cup winning goal for the Boston Bruins.
One Chatham resident has a more unique prospective than the rest of us – he lived that moment.
Gary Sabourin was sitting on the St. Louis Blues' bench, waiting for his first shift of overtime when Orr converted on Derek Sanderson's pass from behind the net to beat goalie Glenn Hall just 40 seconds into overtime to give the Bruins a 4-3 win and a four-game sweep of the 1970 Stanley Cup finals.
Just as he scored, Orr was sent flying by Blues' defenceman Noel Picard, creating one of the most memorable images in sports history – a play that will undoubtedly be shown throughout the 2019 Stanley Cup final telecasts in the rematch of 49 years ago between Boston and St. Louis.
"Sanderson goes in the corner, all of a sudden, there's Orr," Sabourin recalled the play.
"In those days, defencemen just didn't fly into the slot to take a pass – and when I say fly, he could fly.
"It was just one of those plays, with all the talent Orr had, he could do it anytime," said Sabourin, who had given the Blues a short-lived 2-1 lead with his first goal of the series three minutes into the second period.
"We held Orr in check all series," Sabourin said, as the Cup clincher was the only goal in the four games for the Conn Smythe winner.
"But he was always a factor."
Sabourin and the Blues made it to three straight Stanley Cup finals as West Division champions, losing to the Montreal Canadiens in four-game sweeps in 1968 and 1969 before the '70 final against the Bruins.
"I think its great for the city, it's quite accomplishment they're back and I think they have a good chance to win," said Sabourin of the current Blues.
Sabourin played 10 NHL seasons with four teams. After retiring, he moved his family to Chatham when he bought a Buns Master Bakery in 1982. He and his wife Nancy still call Chatham home 37 years later.
The history between Sabourin and Orr goes back to the 1940s.
Both were born in Parry Sound – Sabourin, now 75, in 1943 and Orr, 71, in 1948.
However, their hockey paths never crossed until 1963-64 when Sabourin played with the Kitchener Rangers and Orr was a 14-year-old rookie with the Oshawa Generals in the Ontario Hockey Association Junior 'A' (now the OHL).
"He went to the big time at 18 and I went to the minor leagues," Sabourin laughed about their different routes to the NHL.
Sabourin grew up about 40 miles north of Parry Sound in Britt, a town that didn't have an arena.
"We didn't have a car to go to Parry Sound, so my childhood hockey was on lakes and rivers when the ice was thick enough," Sabourin said.
He didn't play his first organized hockey game or skate in an indoor rink until he was 13 when his family moved to Blind River.
Sabourin made the local all-star team and also played with an intermediate team in the Blind River-Elliott Lakes Mine League.
After one year of Junior 'B' in Orangeville, Sabourin signed with the Guelph Royals of the Jr. 'A' in 1962-63, which meant he was property of the New York Rangers when the six NHL teams sponsored the Junior 'A' leagues.
The Royals became the Kitchener Rangers the following season as Sabourin had 30 goals, 60 assists and 90 penalty minutes in his two years of Jr. 'A.'
The next year, Sabourin was assigned by the Rangers to St. Paul, Minn., of the Central Hockey League where he played for three years with Fred Shero as his coach.
The team moved to Omaha in '66-67, an important year for minor leaguers such as Sabourin, with the NHL expanding from six to 12 teams in '67-68.
Sabourin was disappointed he wasn't selected in the expansion draft but moments after the last selection, he was traded – along with Bob Plager, Tim Ecclestone and Gordon Kannegiesser – to St. Louis for defenceman Rod Seiling.
Sabourin did not make the NHL team out of training camp and was sent to the CHL farm club in Kansas City.
Shortly after Scotty Bowman was promoted to head coach of the Blues in November, Sabourin was called up to St. Louis, along with another forward named Frank St. Marseille, who played for the 1963-64 Chatham Maroons team in the International Hockey League.
The Blues finished third in the '67-68 West Division, beat out the Philadelphia Flyers and the Minnesota North Stars, both in seven games.
The expansion Blues were swept by the Canadiens in the finals, but what people forget is all four games were decided by one goal – 3-2 in overtime and 1-0 in the first two games in St. Louis, 4-3 in overtime and 3-2 in the final two games in Montreal.
Sabourin's only goal came in Game 4, giving St. Louis a 2-1 lead in the second period – a feat he would duplicate two years later against the Bruins – before the Canadiens rallied for the 3-2 Cup-clinching win.
The Blues swept both the Flyers and Los Angeles Kings in four games for a return trip to the finals in 1969 only to become victims of a four-game sweep by the Canadiens again – a pair of 3-1 decisions at the Forum, 4-0 and 2-1 in St. Louis.
The Blues were simply overmatched by the Canadiens, whose back-to-back Cup rosters featured future Hall of Famers Jean Beliveau, Henri Richard, Serge Savard, Yvon Cournoyer, Jacques Lemaire, Guy Lapointe, Jacques Laperriere, Dick Duff, Rogie Vachon and Gump Worsley.
The Bruins were no slouches either, led by future Hall of Famers Gerry Cheevers, Orr, Esposito and Bucyk.
"We had a lot of young guys, like myself, who were thrilled to be in the finals," Sabourin said.
He said the older Blues who had won Stanley Cups earlier in their careers – Dickie Moore, Glenn Hall, Al Arbour, Red Berenson, Jimmy Roberts – did not have the same 'awe' factor as the younger players.
"You didn't want to think you couldn't win, but in the back of most of our minds, we knew it was going to be tough," Sabourin said.
"We weren't happy the way any of those series went, it would have been great to win a couple of games but we just didn't have enough talent to beat those teams."
Sabourin spent four more years in St. Louis before playing one season each with the Toronto Maple Leafs, California Seals and Cleveland Barons, as major knees injuries ended his NHL career.
Sabourin, a gritty right winger who never shied away from the physical side of the game, finished his NHL career with 169 goals and 188 assists for 357 points in 627 games, with 397 penalty minutes.
He had 19 goals, 11 assists and 58 penalty minutes in 62 playoff games, all with the Blues.
After retiring, Sabourin and his wife Nancy moved to Chatham with daughters Susan, Laura and Amy and son Kevin when he bought the Buns Master Bakery on Riverview Drive.
"We didn't make the money they (NHLers) are making today; I had to find something do to because we had four kids to provide for," Sabourin said, as he chose Chatham over two other possible locations to buy a Buns Master franchise.
After a couple of years on Riverview, they moved the bakery to a plaza on the corner of Wellington and Centre streets across from the 'new' Downtown Chatham Centre, where the business flourished.
"I had always been a hard worker, but I didn't know we were going to have to work that hard," he said, laughing, as for the next 29 years, he and Nancy were at the bakery around six in the morning to start baking the bread.
They built a good customer clientele, provided a first job to dozens of high school students and quietly donated bakery goods to many charities and shelters over their nearly 30 years in business.
They were in the process of selling the bakery when a fire that started in a neighbouring business destroyed the entire plaza in March of 2011.
The Sabourins still call Chatham home, even after losing the bakery.
"Chatham has been a great place to raise a family," said Sabourin, as he and Nancy spend parts of the winters in Florida and summers at the family cottage in Britt.
They also take great pride seeing their children prosper in their chosen professions and raising families of their own – Susan and David Smith of Albany, N.Y., and their children Ellis and Kylie; Amy and Drew Peddie of Strathroy and their daughter Grace; Jen and Kevin Sabourin of Chatham and their children Nate, Sydney and Payton; Laura Sabourin and Mike Timmermans of Chatham.
Sabourin said he is excited by the Blues' playoff run and hopes they can bring the Stanley Cup to St. Louis, 49 years since their last trip to the finals ended in disappointment at the old Boston Garden.
"They can hit with Boston, maybe they can't score as much but I think they have as good of a defence.
"I think it might come down to the goaltending, who stays hot, and maybe (Boston's Tuukka) Rask will blow up."
And if the Blues win, Sabourin will finally get the last laugh with Orr the next time the boys of Parry Sound get together.