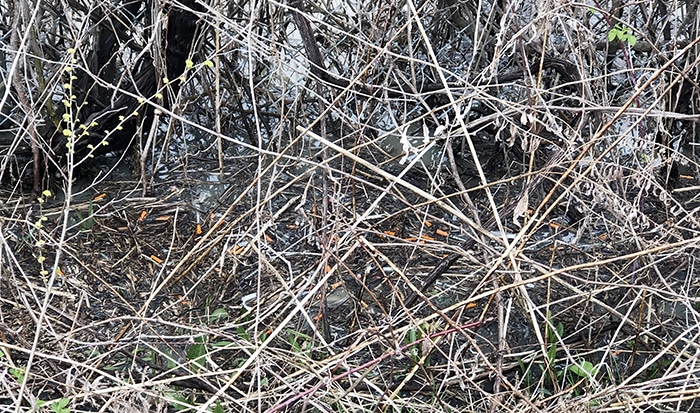 Municipal public health officials say they will continue to monitor a spot in Wallaceburg where a father and son recently discovered upwards of 500 needles.
Wallaceburg Coun. Aaron Hall said he noticed a post on social media from the man, who took his son for a walk along the railroad tracks near Dufferin Avenue and Arnold Street.
"I reached out to find the location," Hall said. "The next morning, I reached out to Public Health and met Public Health officials there."
Hall said they found the location. It had rained heavily overnight and the orange-tipped syringes were in a low-lying area. Dozens floated in a large puddle that had formed there.
"Public Health worked with Public Works and they brought in a net to fish the needles out of this spot," Hall said.
As they scooped away, more needles would float to the surface. Hall said by the end of it, there were more than 500 needles in this one location.
Caress Lee Carpenter, a spokesperson for Chatham-Kent Public Health, said given the location, she doesn't think this was where people injected.
"Where it was, knowing the traffic there, it wouldn't be a place where someone was using, but it would be a dump spot," she said.
Carpenter said officials will continue to visit the location to ensure more needles aren't dumped there.
"It will be monitored to make sure it is not a continuing safety hazard," she said.
Hall said he was impressed with the quick response by municipal personnel
"I'm very happy our staff was right on this. They were there right away and they cleaned it up," he said.
He added the discovery of the cache of needles showcases the underlying problem of illegal drug use. It's not isolated to Chatham-Kent either.
"It points to some of the deeper-rooted issues we have here, not just in Wallaceburg, or Chatham-Kent, but across the province," Hall said.
If you find any discarded needles, Carpenter said there are two different ways to tackle the issue. If the needles are on public property, contact the Public Works department and they will arrange for safe disposal.
If the needles are found on private property, call Public Health at 519-355-1071 to arrange for cleanup.
For anyone confident they can clean up the needles themselves, Carpenter said they would need gloves, a container, an alcohol swab and a set of metal tongs.
"If you are comfortable, you can follow that process."
Pick up the needles with the tongs and dispose of them in the container. Take the container to Public Health's offices at 177 King St. E. in Chatham.
Carpenter said Public Health offers locations in Chatham-Kent where needle users can dispose of used needles. Large bins are located at the C-K Public Health offices at 177 King St. E. and the other is in front of the site of the former AIDS Support Chatham-Kent office on Adelaide Street.
People can also drop off needles at community partner locations such as MacTavish Pharmacy in Dresden and Shoppers Drug Mart in Wallaceburg, which are equipped with sharps disposal containers.
Public Health nurses also provide needle disposal kits as needed, as well as training on how to safely dispose of needles, Carpenter said.
Furthermore, the AIDS Committee of Windsor has mobile outreach in Chatham-Kent. They can pick up and drop off needles on a weekly basis.
Carpenter said Public Health personnel are working with community partners to provide additional disposal bins across the community.
Public Health staff are also in the final phase of preparing a video on how to properly and safely dispose of any needles, should you come across them.
"This video will be complete in the upcoming days and will be available to the general public and our community partners through our social media channels," she said. "The video will also be available on our website."
Carpenter said C-K doesn't really have any hot spots in terms of discarded needles.
"It is difficult to identify if there are 'hot spots' for needle disposal, as members of the public often locate needles and drop them off to the public disposal containers without notifying C-K Public Health staff," she said. "The Needle Syringe Program, which is run out of C-K Public Health's Clinic Services building helps to protect the public by reducing the number of needles discarded in places like playgrounds and washrooms, which are generally common areas for disposal in many communities both within and outside of Chatham-Kent."