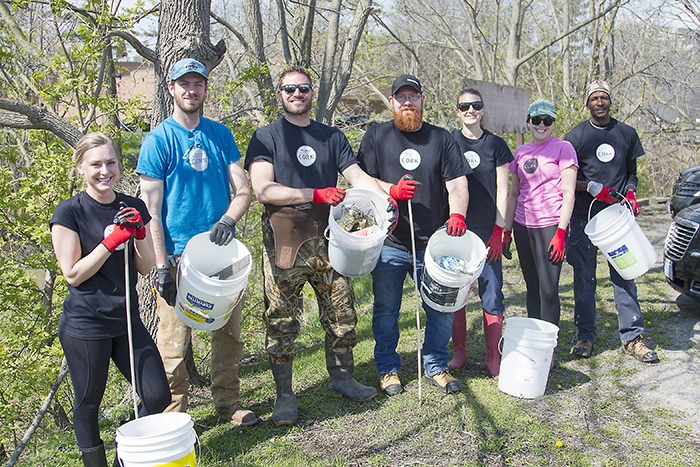 On Monday morning, staff members of The Retro Suites Hotel and The Chilled Cork were busy picking up garbage and litter along the south side and north side creek bank along Zonta Park.
Nine employees, including general manager Pete Tsirimbis, started their route at the William Street bridge, working their way towards Tecumseh Park. Through their actions they hope to challenge everyone in the community to follow suit and do the same.
Tsirimbis came up with the idea to help clean up the city for RetroFest while doing something caring for the environment.
"We're engaging the community to clean up our beautiful county, specifically for our festival season this spring and summer," said Tsirimbis.
With numerous outdoor events around the corner, he said this is a call to others to take pride in the city and beyond.
Armed with pails, the team said the amount of garbage strewn along the bank was much more than they had realized. It wasn't until they had climbed down to the bank at the water's level that they saw the extent of the littering.
"It's certainly dirtier than we thought and it's going to take more than a couple of hours. It's going to take a couple of days likely or a full day at least," he said.
Tsirimbis encourages others to use the hashtag #TrashTag as part of the challenge when posting their cleanup on social media to show a before and after.