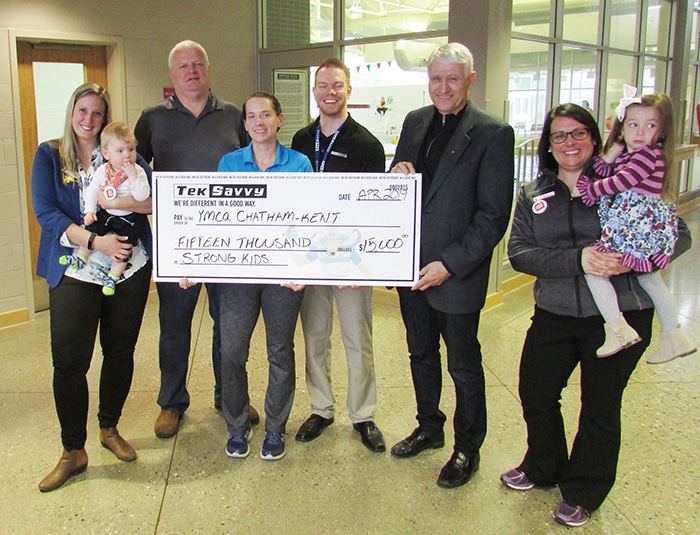 To help a quarter of its clients have access to its facilities and courses, the YMCA of Chatham-Kent is asking for support for its annual Strong Kids campaign.
This year's goal is $85,000.
The funds help families afford memberships to the Y, where kids can take part in sports activities, or leadership programs, and families can remain healthy and active.
Amy Wadsworth, general manager of the C-K YMCA, said the campaign allows more people to have access.
"Every child deserves a chance at a healthy lifestyle. Strong Kids offers financial assistance to families in need. It helps them stay healthy and active," she said.
Jim Loyer, chair of the Strong Kids campaign, said last year's campaign raised $77,000. He added the program helps in many ways.
"It's about developing social skills for teens. Adults pursue healthy lifestyles. Seniors take part in stretch, yoga and swimming classes to remain fit," he said.
TekSavvy gave the Strong Kids campaign's kick off a boost, by donating $15,000. Spencer Antaya, strategic partnerships and sponsorships manager, said the Y is an important part of the community, and all levels of TekSavvy recognize this.
"Our mandate is to support youth and physical activity," he said. "We need to promote kids being healthy and active. An active youth will grow into an active adult."
Antaya said he learned a great deal as a child during his time at the YMCA.
"My experiences with the Y include going to swimming lessons and day camps. I learned to cook for myself at the Y and now cooking is one of my passions," he said. "I remember the gym, as a kid, it looked massive, and the polished court was like playing on an NBA court.
"I was fortunate to have all these experiences before the age of 10. Strong Kids can help kids have similar experiences."
The impact of the Y's programs is far-reaching. YMCA officials asked Scott Williston to detail how the Y impacted him recently.
Williston said he suffered a serious back injury last year and had surgery in August.
"A year ago, I couldn't walk. I suffered a crushed vertebrae in my back. (YMCA staffer) Rob Clarke said he could help me out," he said. "So after surgery, when I got here, I couldn't lift a weight and I could barely swim. I played golf for the first time last week."
Jennifer Tape-Samson came to the YMCA three years ago weighing 110 pounds more than she does today. The Y programs and staff helped her shed the excess weight.
"I started coming here to work out. I learned the Y is so much more," she said. "It's a community. Now, I'm working here to help others."
Tape-Samson added the Y means a great deal to her family as well.
"I'm so proud to be part of the Y. It does so much."
Wadsworth said thanks to the donations from the public and businesses to support Strong Kids, no family is turned away.
Loyer said many members of the Strong Kids board have already donated to this year's campaign, as have a number of YMCA staff.
To learn more, visit http://ymcaswo.ca/