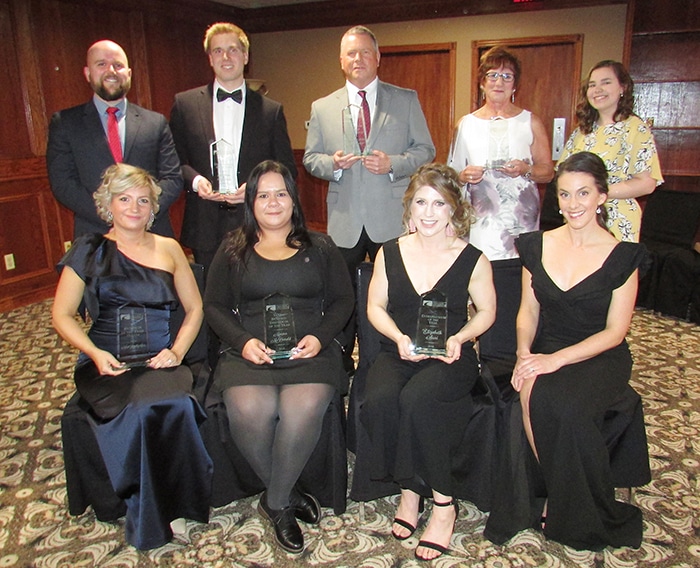 The Chatham-Kent Chamber of Commerce celebrated its 130th Business Excellence Awards on April 18, with award winners humbled to be recognized.
Brenda LeClair, longtime head of Outreach for Hunger, was named Citizen of the Year. She said she was honoured just to be nominated.
"This was a big surprise. When I was nominated, I thought that was really nice," she said, adding she didn't think she did enough to merit winning. "To be honoured like this by our community is truly special."
LeClair added helping those in need just comes naturally to her.
"I love what I do. I don't think of it as work. My parents taught me to be part of the community," she said.
Community Living Chatham-Kent captured Corporate Citizen of the Year honours. Ron Coristine Jr., executive director for the organization, said winning the award means a great deal to a lot of people.
"It's a wonderful recognition of the board of directors, people who receive our support and the employees who are committed to good corporate citizenship," he said. "We believe in giving back and this is just a huge honour."
Nest Realty earned Small Business of the Year. Broker of record Meg Lyttle-Catton of Nest said that small business might soon outgrow its current location on Llewellyn St. in downtown Chatham.
"We love our location in downtown Chatham, but I do see us in a year or so moving to a larger location," she said.
Lyttle-Catton credited her staff – 16 agents and two full-time staff – with making Nest what it is today.
"We have a great team. We are lucky to have the team we do. We're collaborators not competitors," she said. "If you see us out, chances are we're with another Nester."
Lyttle-Catton said Nest is taking advantage of technology and talent to showcase homes to prospective buyers, using professionally shot photographs and videos.
"We're just a little different," she said. "There's nothing wrong with the other guys, however."
Morena McDonald of 519 Events & Promotions was named the chamber's Young Business Individual of the Year. The company has only been around since early 2018, but McDonald has deeper experience in event promotion.
"I've been planning events for the last five years. A lot of that time, I've been working behind the scenes."
To be singled out by the chamber is greatly appreciated, McDonald said.
"This is really great being honoured and recognized," she said. "It's also great that the Chamber showcases youth.
McDonald's company is responsible for helping to organize such events as the Dresden Night Market, Etsy Made in Canada, and the new Art at RM event slated for June. She also works with corporate clients.
Entrepreneur of the Year went to Wooly Doodle's Elizabeth Suni, while Hannah Bientema received Youth Entrepreneur of the Year and Matthew Venheule Young Entrepreneur of the Year.
John Fry of JM Fry Furniture Design was named Business Individual of the Year.
Cecily Coppola, chair of the chamber board, thanked the businesses and entrepreneurs for their commitment to Chatham-Kent.
"You are really championing the voice of business and helping the community," she said. "Thank you very much for all you have done."