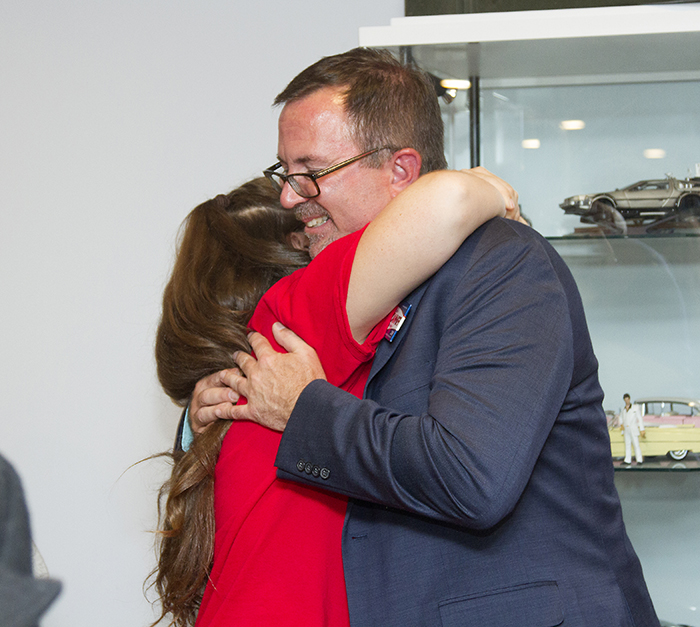 The victor topped the spending list, while the defeated didn't even report his spendings.
That's how it played out on municipal election night, according to municipal records, where Darrin Canniff became mayor after spending nearly $64,500 on his 2018 campaign, while Randy Hope didn't file his election expenses by the March 29 deadline.
Anyone who fails to file is ineligible to run in the next election.
Hope wasn't alone, as council candidates Don Leonard, Tanya Bondy, and Dylan Robert McLay didn't file either, according to municipal records.
Election expenses typically include advertising, such as in print, on flyers or on signage, and special events, such as election night gatherings.
At the mayoral level, the election-spending limit was $73,676.
Alysson Storey, who finished second in the race for mayor, spent nearly $41,500.
The low spender in the race for mayor was Allan Traylor, who reported he didn't spend a dime.
In the race for a seat on council, Ward 2 hopeful Henry Svec doled out nearly $8,500, but was not elected.
Doug Sulman spent $8,374 on his successful campaign, while Larry Vellinga ponied up more than $8,200, but fell just short in his bid.
Two candidates that withdrew their names during the campaign were David VanDamme and Chris Glassford. Both reported their election finances regardless, and spent nothing.
A complete list of who spent what is below.
2018 Municipal Election
E = Elected
DNF = Did Not File
Mayor
E – Darrin Canniff $60,453.70
Randy Hope DNF
Harold Atkinson $1,282.75
Robert Salvatore Powers $4,659.63
Alysson Storey $41,448.86
Allan Traylor $0
Ward 1 West Kent
E – Mark Authier $600
E – Melissa Harrigan $2,725.03
Jordan Dell $0
Bryon Fluker $742.40
Mark Pastorius $835.77
Ward 2 South Kent
E – Anthony Ceccacci $5,110.87
E – Mary Clare Latimer $3,568.54
E – Trevor Thompson $4,996.70
Art Stirling $3,885.56
Henry Svec $8,473.37
Frank Vercouteren $1,63.95
Tanya Bondy DNF
Ward 3 East Kent
E – Steve Pinsonneault $2,429.48
E – John Wright $3,200.57
Mary Ann Hawthorne $1,697.88
David VanDamme $0
Ward 4 North Kent
E – Joe Faas $443.40
E – Jamie McGrail $3,370.03
Jessica Brooks $615
Joey Cyples $4,446.99
Patricia Sylvain $4,012.94
Mary Anne Udvari $2,609.63
Dylan Robert McLay DNF
Ward 5 Wallaceburg
E – Aaron Hall $2,197.46
E – Carmen McGregor $4,038.12
Nicolas Cadotte $2,023.45
Chris Glassford $0
Randy McNeil $2,224.62
Ward 6 Chatham
E – Michael Bondy $3,837.09
E – Marjorie Crew $2,415.85
E – Amy Finn $1,224.74
E – Karen Kirkwood-Whyte $7,888.59
E – Brock McGregor $5,907.53
E – Doug Sulman $8,374.00
Les Banks $593.25
Penelope Duchesne $1,755.81
Don Fuoco $5,694.83
Kirk Hooker $5,161.19
Ryan Jackson $1,425.20
Christopher June $4,088.77
Don Leonard DNF
Gord Thomas $3,133.03
James Thompson $0
Larry Vellinga $8,219.40
School Board Trustee
E – Louise Aitken $0
E – David Argenti $0
E – Janet Barnes $0 (acclaimed)
E – Robert Demers $0
E – Scott McKinlay $0
E – Randy Campbell $232.55
E – Ruth Ann Dodman $124.30
E – Derek Robertson $2,392.21
E – Brenda Rumble $0 (acclaimed)
E – John Van Heck $0
John Paul Balagtas $0
Rich Gebal $0
Eric Montgomery $500.58
John Mrnik $0
Patricia Pook $1,005.52
Shannon Sasseville $762.51
Bernard Tremblay $0
Chris White $466.20