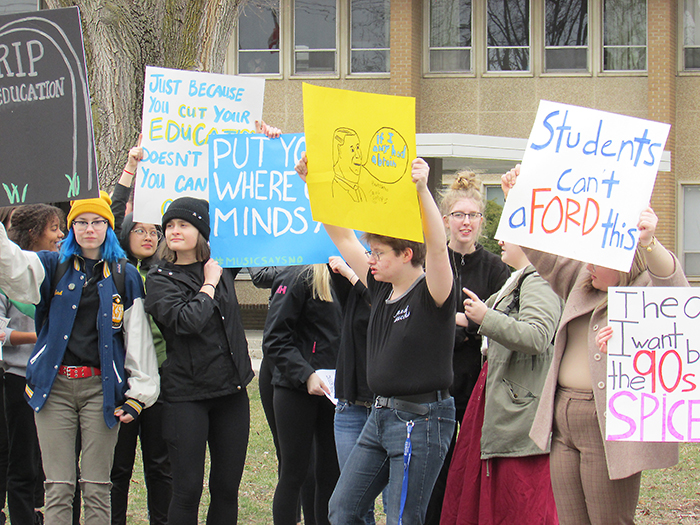 "Hawks say no!"
Students at Chatham-Kent Secondary School got their message across loud and clear Thursday afternoon during a student walk-out in protest of provincial government changes to education, including larger class sizes.
Close to 400 students at CKSS left their classes at 1:15 p.m., in solidarity with students at Ursuline College and John McGregor Secondary School in Chatham to garner public support against the education changes.
CKSS student walk-out organizer Emma Kathleen, in Grade 10, said she helped organize the protest because she is very passionate about education.
"I believe our students are very valuable, but also one of the most vulnerable demographics because many of us don't have the right to vote yet. With the increased class sizes, mandatory e-learning, the banning of cell phones, the cuts to specialized education like the arts and cuts to autism-related supports – it's very disheartening to see our students, who are the future of Ontario, aren't being seen as valuable or worth our tax dollars," Kathleen said in an interview during the protest.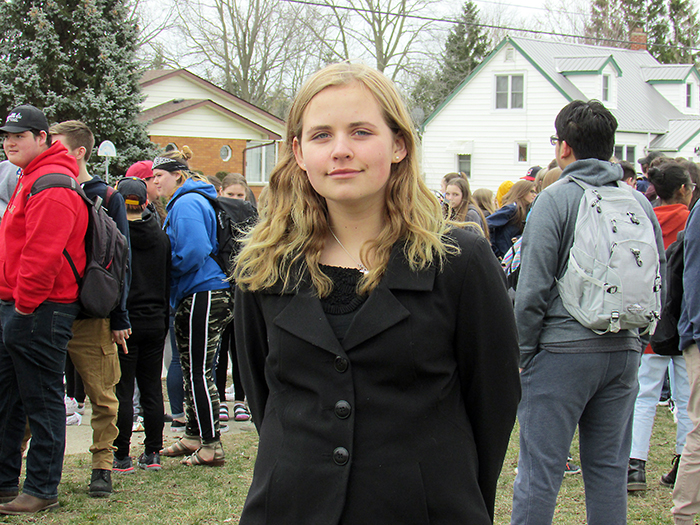 She said she felt it depends on the government as to how students are treated or viewed in the province, and some don't acknowledge the value of student education.
"We're trying to get out of debt; that's what we're doing, and cutting essential things like education isn't the way to do it."
The students were outside the school for one period and encouraged passers by to honk their horns if they supported the reasons for the protest. Over a great deal of horn-honking, students chanted "Hawks say no!" while holding signs condemning the cuts coming to classrooms in Ontario.
"We have a petition in regards to mandatory e-learning as that isn't an education style that is suited to every learner, and I'm hoping to really work on writing letters because government officials have to respond to every hand-written letter they receive, by law, so when we start sending letters, I think that's really when we're going to see an effect," Kathleen said about future plans by the student body.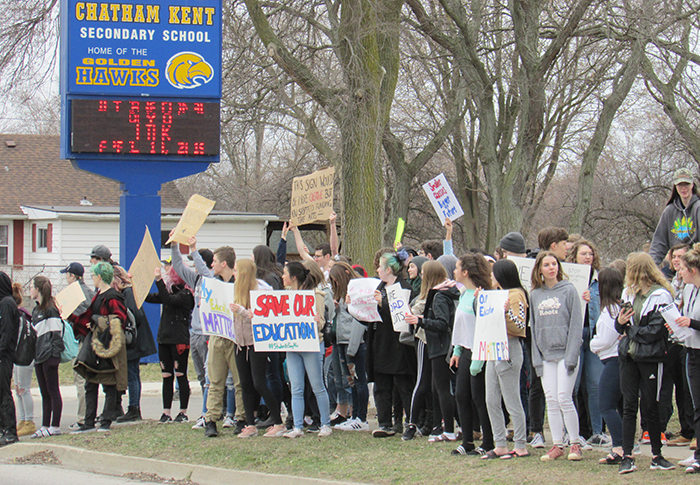 Rick Nicholls, MPP for Chatham-Kent Leamington, wasn't in Chatham during the protest but did make a statement from his office in Toronto.
"I have many very good teacher friends. I am however concerned that certain individuals have students riled up and are encouraging student walkouts to protest changes to the government's education plan. Every time I visit the high schools of my riding, I am amazed at the diversity of well-informed opinion of students in the classes I address. A handful of union activists do not have a monopoly on their best interests. Their parents and communities matter too. They are who we listened to in the biggest consultation on education in Ontario history, which featured over 72,000 participants," Nicholls stated.
For Kathleen, who, while only in Grade 10, has an interest in politics, the fight for students' rights won't stop here.
'My hope is that the government realizes we have value, even if we don't have the right to vote. We are still citizens of Ontario and we are the future. We are the innovators, we are the next engineers, we're the next people sitting in those seats they sit in," Kathleen explained. "I myself am hopeful about going into politics and it's very disheartening to see all the games that come with it, because I want it to be genuine, I want it to be authentic and not masked by lies."