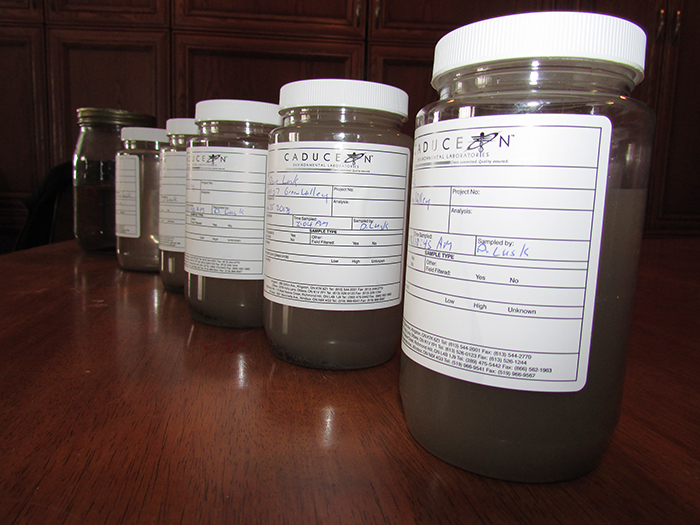 At a Water Wells First community meeting recently, the members continued to express their frustration with the government's lack of action to make good on a Doug Ford promise to hold a full health hazard investigation into well contamination in the area of the North Kent Wind Farm in Chatham and Dover townships and dropping property values.
WWF spokesperson Jessica Brooks said frustration with the situation continues to rise.
"After our community meeting, Water Wells First members continue to be disappointed and frustrated with the lack of action by the provincial government in regards to a Health Hazard Investigation," Brooks said in a release.  "We are demanding that the government act in the best interest of the health and safety for the people of Chatham-Kent by identifying black shale as a pollutant in drinking water. Any testing done by the municipality will be inadequate and pointless until this health hazard investigation is launched."
Brooks noted the closest WWF has come to hearing any news is the announcement about a review by the Ontario Medical Officer of Health of the work of the Ministry of the Environment did during the summer of 2017.
"This is a pointless investigation as the ministry was only using lab results collected by the polluter; the wind company," Brooks added. "Concerned citizens are encouraged to write Premier Doug Ford, Minister of Infrastructure Monty McNaughton, Minister of the Environment Rod Phillips and Minister of Health Christine Elliott asking that they take our concerns for groundwater seriously and launch a Health Hazard Investigation."
The sediment in the wells, now known to contain black shale, has never been collected by the MOE or the turbine company for testing. Black shale is known to contain toxic heavy metals such as mercury, arsenic, lead and uranium. What worries the residents is how much of the shale, if any, is safe to drink, as the particles found in the water range in size and the smallest cannot be filtered out.
Also of concern to WWF members is news that Dr. David Colby, the medical officer of health for Chatham-Kent, has submitted an abstract on Wind Turbines and Groundwater Contamination for presentation at a Wind Turbine Noise 2019 conference in June in Lisbon, Portugal.
Colby has publicly said the wind turbines aren't responsible for the well contamination, and the sediment, while "aesthetically unpleasing," is safe to drink. He, however, has not collected or tested the sediment in the contaminated wells.
Questions that WWF members have for Colby is what does his article report on, is he representing the municipality in his capacity as Medical Officer of Health and who is paying for his trip?
Brooks said she asked Colby for the article but was told it wasn't completed as of yet.
Reduced property values are also a concern for residents near the wind farm projects. Brooks said those people who had their wells tested before construction of the turbines have applied to MPAC, the provincial corporation that assesses property values, for reassessment. The results have been reduced taxes due to well issues, and Brooks said even people in proximity to the wind farms have a lower assessment.
"We were told that is something that would never happen, but it has. Just being in proximity to a wind turbine devalues your property," Brooks said. "And the number keeps going up. Just from the people who have talked to me about contamination, the unofficial count is 40 families, and that's not counting the people out there who aren't going to complain because they rent or they don't want their property devalued.
"This is a slow-moving disaster happening and something has to be done. It's been seven months and it is imperative a health hazard investigation is done before anything else can be done. Get boots on the ground, collect and test the sediments and get it done."
The recent cold snap was a big problem for residents who have to get their water from tanks on their property as most froze and left residents scrambling to get water.
"It's a good thing the cold weather broke or I would have had to haul my laundry into town just to conserve water for cooking and drinking," Brooks noted.