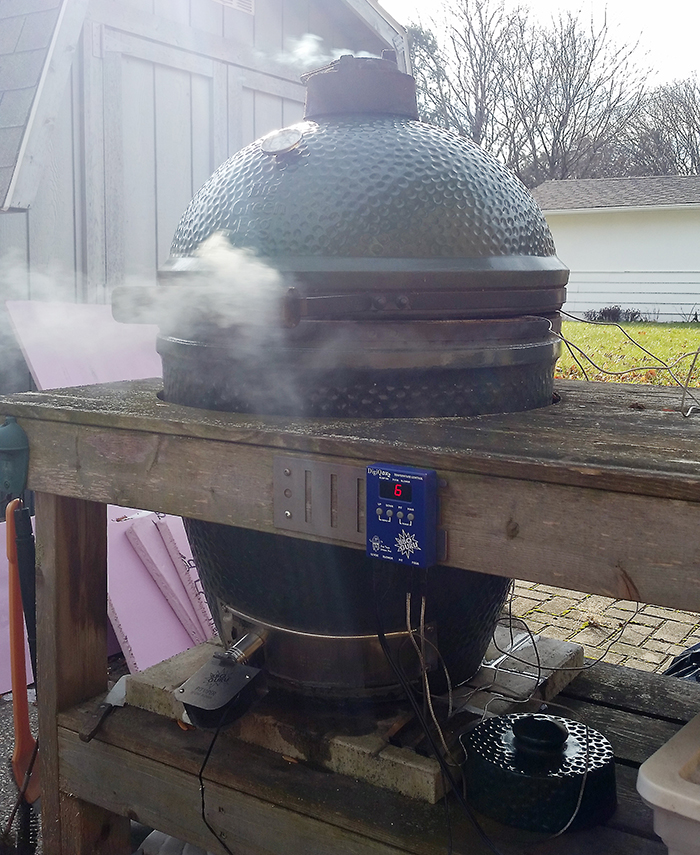 Talk about the perfect Christmas Day for yours truly. And some of it included sitting outside on a chilly day.
But that was just to make sure the Big Green Egg was up and running properly as I had the job of cooking a nice 10-pound prime rib for Christmas dinner at the home of our friends Pete and Arlene. They are the Lindsay ex-pats who were our neighbours for 13 years before we moved here in 2001.
They joined us in the banana belt last month. And their two adult children came down to celebrate Christmas in the new home.
We got the invite for dinner, I found prime rib on sale, and offered to bring the meat.
After a long Christmas Eve, first eating turkey dinner with family and then meeting up with Arlene and Pete to greet their youngest son as he got off the train from Toronto, Christmas Day began about 10 a.m. at our house. We take our time opening gifts – one at a time as we watch each opening – including stocking stuffers.
I feared I wouldn't have enough time to get the meat cooked by 6 p.m.
But I was wrong.
I prepared the Egg by filling it with charcoal and lighting it in just a couple of spots. When you plan to cook low and slow, you only want limited ignition points, or it is too tough to keep at a low temperature.
I seasoned the prime rib with a coffee rub and set the Egg for 235 F to cook.
For longer cooks, I like to use a DigiQ temperature control. It controls the airflow into the bottom of the Egg and uses a fan when needed to add some oxygen and feed the coals.
The unit is great for controlling cooking temperature. It has a probe to monitor the Egg's temperature as well as the meat's temperature. I tell it what temperature I want to cook at, and at what temperature the meat is to be done. When the latter is reached, a regular alarm will beep.
The unit will also beep if the temperature of the Egg gets too hot or too cold.
But you have to be within earshot to hear the beeping. And if you want to keep close monitoring of the temperatures – a smart thing to do until the Egg settles down and the temperature evens out – you have to sit right beside the Egg. That's something I've done in the past, even in -15C weather, with the wind howling and the snow flying by horizontally.
But I'm older and smarter now. I won't barbecue in that crappy weather anymore.
But even on cool days, why hang out in the backyard in a chill wind when you don't have to?
Sensei Jeff has a DigiQ that delivers info via Wi-Fi to his cell phone. Thanks to Mary and Brenna, I have a Traeger wireless monitoring system that works great too. The outside unit has a probe for the meat and another for the barbecue, while the receiver unit will deliver the information to me wherever I am in the house, or in the backyard.
It's handy for doing yard work, or for relaxing in a nice, warm house in the winter. I hooked that device up and retired to the basement. So, with a glass of Irish whiskey in hand, and music playing on the stereo, I cooked out in the cold. Except I was cozy under a blanket and in recline mode inside.
As for the tunes, they came from the iPod and went through one of my Christmas presents – a Logitech Bluetooth adapter. This little device is awesome, as it turns any stereo receiver, regardless of age, into a Bluetooth equipped music player.
We had a cord hooked up via phono jacks in the back of the receiver so Brenna could play her music from her phone when she has friends over. But she had to drag a stool over to the stereo and sit there to DJ.
Now you can move around the basement, phone in hand, and control things.
Or, in my case, you can chill out in the recliner and enjoy.
Being Christmas Day and all, I went to my holiday playlist … NOT! Nope, Eddie Money's "Walk on Water" christened the new set up nicely, followed by a plethora of classic rock tunes.
As for the cooking, I checked on the temperature settings regularly, and had to go outside to alter the flow just once. The problem is my Egg still has an issue with how the lid sits and it is no longer airtight as a result. I had a hard time keeping the cooking temperature below 260 F, let alone at my desired 235 F. The result was a faster cooking time. I was done at 4 p.m.
But we let Arlene know well in advance it was cooking faster than expected, and she adapted. We ate earlier than anticipated, and it was delicious.
One of her sons is a vegetarian. He loved the smell of the prime rib, but didn't falter.
Heck, I even tried a chunk of tofu that night. It didn't suck, as it takes in the flavours it is cooked in (Thai red curry sauce).
Help for Emily
We received a phone call recently from a woman who said she wanted to donate to Emily Hime's Hime For Help organization that runs the orphanage in Haiti, after reading our article in the Dec. 13 Chatham Voice on Emily.
One problem. I neglected to provide an option for someone if they don't have ready access to a computer.
The woman declined to give her phone number and said she wanted to see the info in print in our paper, so others would know too.
Fair enough.
To donate to help the kids in Emily's orphanage, you can mail a cheque to Hime for Help, 4 Whippoorwill Cres., Chatham, ON N7L 4A3.
Folks with computers and access to the Internet can still go through HimeForHelp.org.
Comments
comments