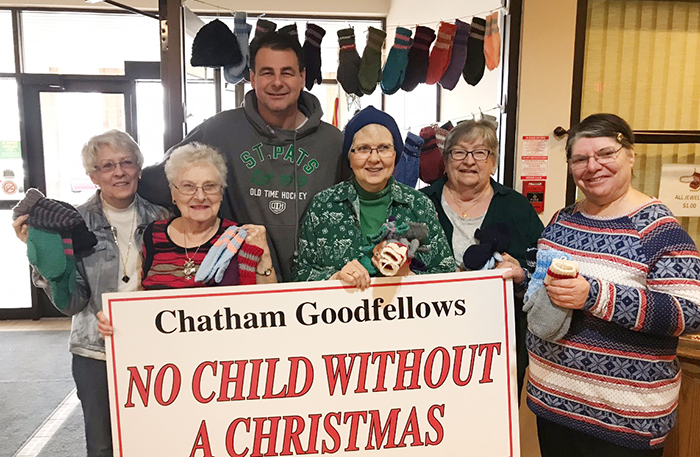 Support for the Chatham Goodfellows No Child Without a Christmas campaign this year continues to roll in from all over Chatham-Kent, and organizers couldn't be happier.
The Goodfellows 64th annual porchlight campaign is one of the highlights this year, according to volunteer Tim Mifflin, who said they surpassed last year's amount.
"The Board of Directors are very pleased with the great turnout. Over 550 volunteers canvased the neighbourhoods of Chatham and collected enough non-perishable food to fill over 90 banana boxes, and enough new toys to filled 70 banana boxes," Mifflin said in a release. "In addition to the toys and food, over $44,500 in cash was donated, which is $3,000 more than the 2017 porchlight amount."
He added the Chatham Goodfellows Board of Directors are appreciative of the continued support and generosity of the volunteers and the Chatham-Kent residents.
Community supporters include Boston Pizza staff, who were the 2015 Chatham Goodfellows Presidents Award winners.
Mifflin said each year the staff of Boston Pizza pool their tips earned in a single day and purchase toys for Chatham Goodfellows. This year Boston Pizza staff collected $2,000.
Union Gas employees have been long-term partners with Chatham Goodfellows and in 2016, Union Gas Employees received the inaugural Lifetime Achievement Award.
"Union Gas employee have donated thousands of hours of sweat equity, and over $600,000 in toys, food and cash to Chatham Goodfellows," Mifflin noted.
As well, this year's fifth annual Santa's Day Off sponsored by Real Canadian Superstore and
Blackburn Radio, held at the Superstore, had a total of $4,000 worth of toys donated, along with $705 in gift cards and cash.
Over the 64-year history the Chatham Goodfellows the group has provided Christmas to the less fortunate for citizens in Chatham and the former townships of Chatham, Dover and Harwich, and they partner with the Merlin Legion/Kinsmen to provide for those in need in Merlin, Dealtown, North Buxton and the former Township of Raleigh.
For people still wanting to help, Street Sales are being conducted on Friday and Saturday, and food packing/delivery is at Spirit and Life Centre (St. Joseph Site), on Dec. 18, with packing beginning at 8 a.m.
Comments
comments