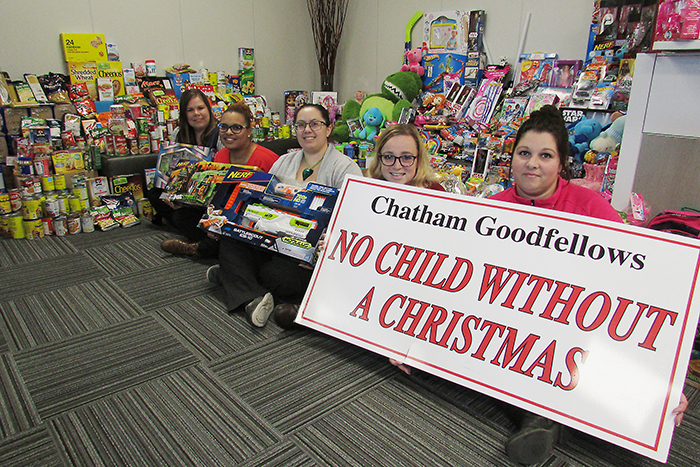 The president of Chatham Goodfellows was in awe of what the folks at YA have done this year in terms of gathering toys and food for those in need.
On Nov. 20, Tim Haskell stepped through the entrance to YA's offices on Richmond Street in Chatham to be greeted by proud staff and a mound of toys and food.
The Goodfellows will redistribute the toys to children this holiday season, while the food went to help stock the shelves of Outreach for Hunger.
"I think I'm going to need a bigger vehicle," Haskell told The Chatham Voice. "The generosity leaves you in awe of how much people give."
Rena Gandham, director of human resources for YA in Chatham said this year delivered the largest amount of toys and food gathered by employees to date.
"We've been here 16 years and this is the first time we collected so many items. I'm really proud to work with such a caring team," she said.
Gandham credited members of the community outreach committee at YA, comprised of Katy Male, Julie MacKenzie, Kayla Ebdem, Evelyn Hewitson, Chris St. Pierre, Kelly Pinchinte and herself, with leading the way by holding a friendly in-house competition.
"They separated the organization randomly into teams and they had six months to see who could raise the most points," she said, adding points were made for both food and toy donations. "The winners are the children and their families."
Gandham said the sheer volume of goods donated left some staff speechless.
"When people came out to see this, we had some people in tears. They were overwhelmed by how generous the YA community is," she said