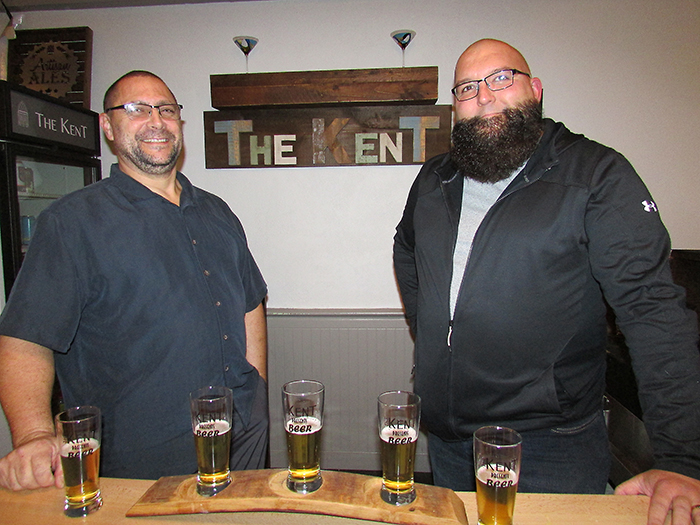 Lovers of craft beers and ciders have the chance to experience a nice variety all under one roof this weekend.
The Kent Presents Beer, the fourth annual CK Craft Beer Festival in Chatham is geared up for Saturday at 6 p.m. at The Kent, on the corner of Park and William streets.
Organizer Michael Fry said they are excited about the lineup of brewers this year, and a new format that is more event style than trade show. He said with the purchase of a ticket, patrons will get a Kent Presents branded glass and with five tokens good for beer or cider samples.
"It's a smaller, more intimate event," Fry said. "We open the doors at 6 p.m. and we'll go until people are done."
Besides the tasting options of 12 craft breweries and three cider brewers, Fry said the event is encouraging patrons to bring their best, bushiest and well-trimmed beards in support of the Movember movement to bring awareness to the issue of prostate cancer and the importance of having it checked early.
"We've partnered with Smellis Beard and 'Stache oils and balms and we will be giving a Beard of the Year prize to the winner of the contest," Fry said. "After we announce the winner, there will be live music and people can either keep tasting or will have the option for full cans of their favourite beers at discount prices."
Once tokens are used up, Fry said event goers can continue to buy samples for $1.50 each.
The event features some well-known local brewers in Sons of Kent and Bayside Brewery, as well as newcomer Sod Buster Brewing Company from Dresden, and Block 3 Brewing, Refined Fool Brewing Co., Anderson Craft Ale, Brew Microbrewery, Forked River, Frank Brewing Co., Railway City, Thornbury Village and Walkerville Brewery. Cideries include Bad Apple Brewing, Growers Cider and Strongbow.
Tickets for the event are $35 plus tax and are available online by going to thekentpresents.com.
Comments
comments