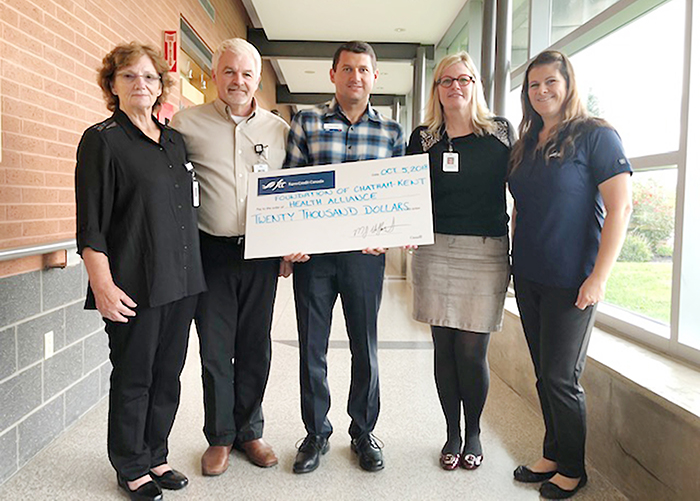 Recently, the Foundation of Chatham Kent Health Alliance received a cheque in the amount of $20,000 through the Farm Credit Canada (FCC) AgriSpirit Fund.
The grant is one of the final amounts that have contributed to the purchase of a new CT Scanner at CKHA, the final piece of equipment installed as part of the Foundation of CKHA's recently completed Diagnostic Imaging Equipment Renewal Campaign.
"We were overjoyed to be awarded these funds from Farm Credit Canada," said Mary Lou Crowley, Executive Director, Foundation of Chatham-Kent Health Alliance, in a media release. "The new CT Scanner is one of the most vital pieces of equipment in our hospital, and will be used by hospital patients from all corners of our community. With the kind and generous support of Farm Credit Canada, we are able to make an impact on the health and well being of people across Chatham-Kent."
This year, the FCC AgriSpirit Fund has awarded funds for community improvement projects that enhance the lives of residents or contribute to sustainability in communities. Examples include equipment purchase and installation, energy efficient building improvements and repairs, and the purchase of rescue and fire equipment.
"The FCC AgriSpirit Fund is about helping community-minded individuals and groups undertake projects that enhance the quality of life in rural Canada," said Sophie Perreault, Farm Credit Canada executive vice-president and chief operating officer. "Our employees care about the communities where they live and work, and we share in their pride and sense of accomplishment by lending a helping hand."
The Foundation of Chatham-Kent Health Alliance Diagnostic Imaging Equipment Renewal Campaign raised more than $7 million over four-plus years to fund the purchase of 17 new pieces of diagnostic imaging equipment for CKHA. The final piece of equipment purchased with funds from the campaign is the new CT Scanner, which has recently been installed in the hospital and will be in full service starting later this fall.
Comments
comments