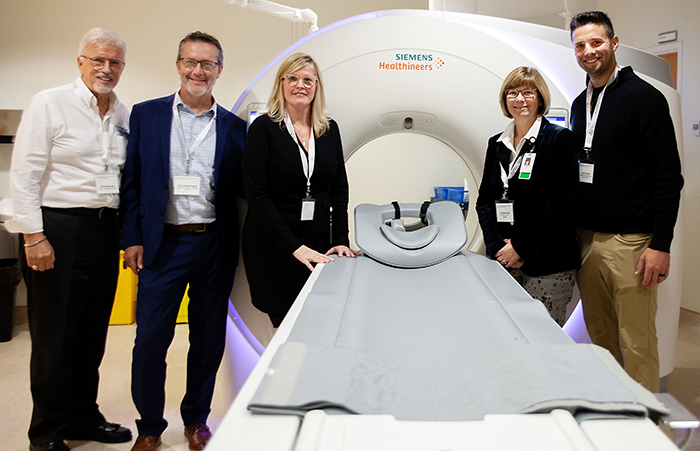 Through the efforts of the Foundation of Chatham-Kent Health Alliance, the CKHA recently unveiled the new CT scanner and Wiet Peeters & Family CT Scan Suite at the Chatham site of alliance.
To mark the occasion, a ribbon-cutting ceremony was held in the Diagnostic Imaging Department at the CKHA Chatham site, attended by donors, campaign officials, CKHA staff, and visiting dignitaries.
"The equipment we unveiled today is the lifeblood of our community, and it is due to their incredible efforts during our campaign that we were able to raise the funds to have it purchased for our hospital," said Mary Lou Crowley, Executive Director, Foundation of Chatham-Kent Health Alliance, in a media release. "I cannot overstate how much it means to the people of Chatham-Kent, and how thrilled we are to be able to thank all of our generous supporters today with an event like this."
The CT scanner was the final piece of equipment to be installed for the $6.9 million Diagnostic Imaging Equipment Renewal Campaign. Thanks to the support of the community, this past May it was announced that more than $7 million had been raised during the campaign to purchase 17 new pieces of diagnostic equipment for the hospital.
"As an important tool in the diagnosis of injury and illness, the new CT scanner will be invaluable in our ongoing commitment to provide exceptional quality and safe care within a comprehensive community hospital," said Lori Marshall, president and CEO, CKHA. "The new CT scanner produces better quality images with faster scan times, increased clarity and greater detail, which assists our radiologists in detecting injury and illness and contributes to an improved experience for our patients close to home."
In addition to the installation of the lifesaving equipment, the ceremony also marked the unveiling of what is now known as the Wiet Peeters & Family CT Scan Suite.
"The Diagnostic Imaging Campaign kicked off in 2014 thanks to an incredibly generous gift from Mr. Peeters," said Gaye Thompson, board chair, Foundation of CKHA. "It is with great pleasure that, thanks to their kind and generous support, we have dedicated this space in the hospital to Mr. Peeters and his family."
"On behalf of my entire family, I'd like to thank the Foundation of CKHA and Chatham-Kent Health Alliance for inviting us here," said Brian Peeters, son of Wiet Peeters. "It's great to see first hand that the funds our father donated have been put to such good use."
Generally, governments do not fund new capital equipment expenditures for hospitals, so it is the mandate of hospital foundations to raise money from organizations, individuals and businesses to purchase these necessary items.
Comments
comments