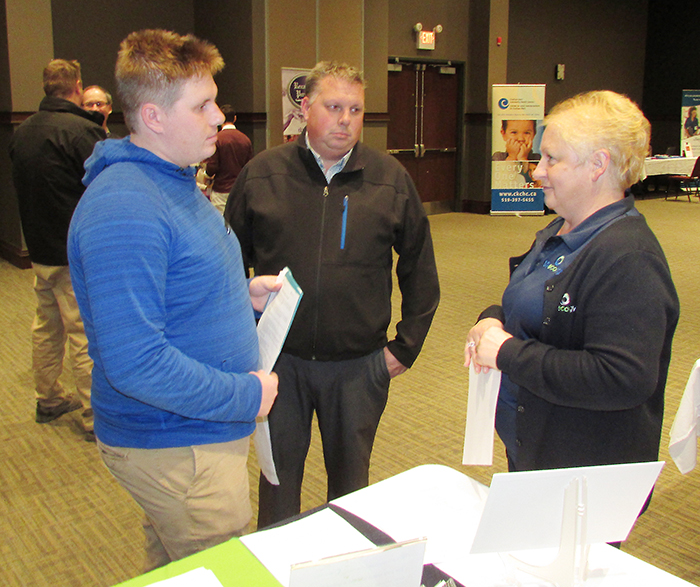 Companies who participated in last week's CK Works Community Job Fair saw some heavy foot traffic pop by.
Organizers anticipated more than 500 job seekers would come through the John D. Bradley Convention Centre Oct. 23 for the afternoon event that featured 45 Chatham-Kent companies.
There were more than 300 positions, in a variety of roles, open among the participating businesses, according to CK Works. The jobs varied from entry level to technical and management positions.
Elaine Coutts of US Ecology Services of Tilbury reported seeing a lot of interested faces during the job fair.
Wendy Teetzel, human resources manager for AgMedica, a local medical marijuana producer, said the business' kiosk was a hotbed of activity during the job fair.
She said there has been a fair amount of interest in what the firm does and what jobs it offers prior to the Oct. 17 legalization of recreational use of marijuana, but it's gotten even busier since that day.
She added the business, which employs about 100 people currently, is expanding rapidly. Its second phase is expected to be completed by the end of the year, and that will lead to additional jobs.
Nathan Pittman of YA Canada, whose company is still working to fill vacancies, said the fall job fair is always a busy one.
He added the call centre firm often has to break the stereotypes of what people think working in a call centre involves.
"People assume we're cold calling people. That's not the case," he said. "Are there tough days? Sure. But that happens everywhere."
Pittman added YA works with staff and provides opportunity for advancement.