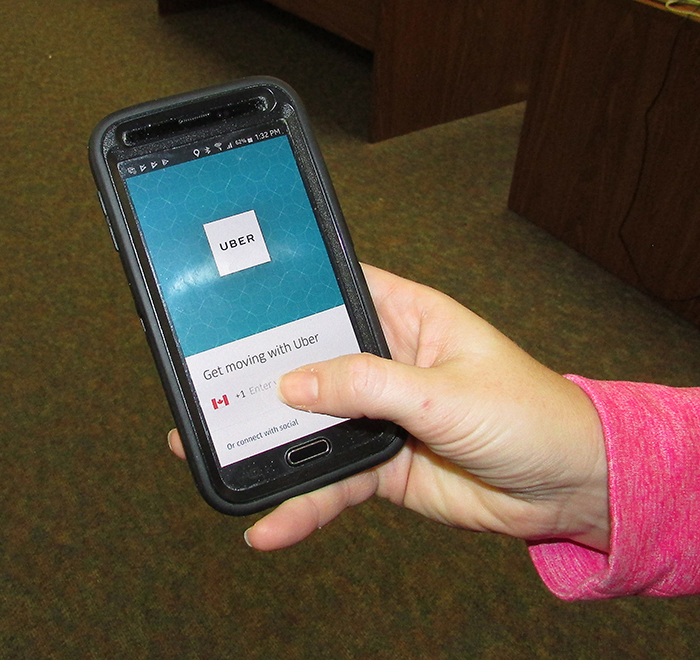 Earlier this month, URIDE ridesharing came to Chatham-Kent.
It was about that time that Uber, a ridesharing competitor, came to my cell phone.
You should remember Uber, as that's the company that looked at Chatham and said it wasn't interested in doing business in our community. Its management was at odds with municipal officials.
But it's a business, and the overseers can do what they like.
Thankfully URIDE stepped in to fill the void.
As they made their announcement, I downloaded their app onto my phone, for possible use, and to possibly use in a photo for this newspaper.
I have yet to do either, but it's useful to have for snagging a ride home after one too many beverages, or for a variety of other reasons.
Except, now I have Uber pestering me on my phone.
It's not like they're calling me, or emailing me. They are infiltrating my phone via Google advertising through a couple of little games I have on my phone.
I play solitaire and do word puzzles on my phone sometimes. And because I downloaded the URIDE app via Google Play on my Android phone, it seems Google has passed on to Uber the ridesharing interest it perceives me to have.
Uber ads pop up daily on these games I play, encouraging me to download the Uber app and start using it for ridesharing.
Yeah, one problem, Uber, you guys passed on servicing Chatham-Kent. Get off my phone!
Buy Local, Shop Local
I also realize society is heading toward convenience over traditional shopping experience more and more.
People too often reach for their phones, tablets or computers to order goods online. I'm old school. I believe in visiting local retailers to obtain the products I desire. If I cannot get what I want here in Chatham-Kent, only then I will look elsewhere.
To me, Buy Local, Shop Local is vitally important. We support local business that way. Healthy local business equals a healthy local economy. Dollars spent in Chatham-Kent in that manner help employ people here, not at some mega box warehouse in a large urban centre many kilometres – and often several borders – away.
I do use the Internet to shop – mainly to look for products available at local outlets and compare pricing and selection.
I had to laugh recently when I used the Internet to look for a surge protector for one of the office computers. I found just what I wanted and it was on sale. But when I went to see if any were in stock at the local outlet (and it did say "Sold in Stores") my click told me there were no stores in Chatham for that company.
Umm, I've purchased plenty of stuff from this store in the past. It is indeed here. Heck, it's my home store when searching that particular website.
I had to call the store to ask about the product. The associate at the store got a good laugh at his own company's website, and went looking for the item in question.
It was available online only. I could order online and pick it up at that store 24 hours or so later, but I chose to purchase an item that was in stock locally instead.
Comments
comments