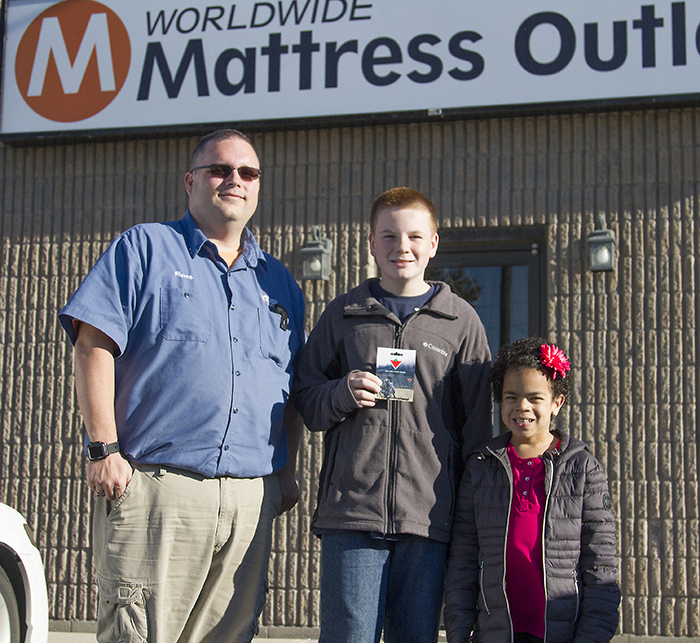 When 13-year-old Graham Smith stepped outside on a recent morning before leaving for school, he noticed something was missing from his Chatham home – his locked bicycle.
"I was going to go get some pop for my mom from the store and I went to go downstairs to check on my bike and it was gone," said Graham.
A gift from a family friend, he used his bike to help run errands for his mother, Jenna Smith, and had only had it for a couple of months before it was stolen.
Jenna said she was so upset she posted what happened on her Facebook page.
"A girlfriend of mine, her bike was stolen and it happens all the time," said Jenna.
"I figured it was our turn now."
Pierre Rioux, manager of the Chatham's Worldwide Mattress Outlet stumbled upon her social media post and wanted to help.
"I take it more personally when someone steals from a kid. When it happens to an adult, it's easier for them to move on. You try to teach your kids not to steal things, but then it happens to them," said Rioux.
His own daughter had her bike stolen previously and while he was able to retrieve it, he knows this is a rare case.
Rioux immediately reached out to his own friends to see if anyone had an extra boy's bike they would be willing to donate to Graham.
That same afternoon, a donor who wanted to remain anonymous dropped off a Canadian Tire gift card to Rioux's store. Already a prominent member of the community, Rioux said the fact he did not want to be recognized speaks to the kind of person he is.
"The person, who donated the card went to Canadian Tire, measured the bike frames himself and showed up within 45 minutes of me posting. I did not expect an outcome like this by any means," said Rioux.
"Graham learned a hard lesson, but there is a more valuable one here," said Jenna.