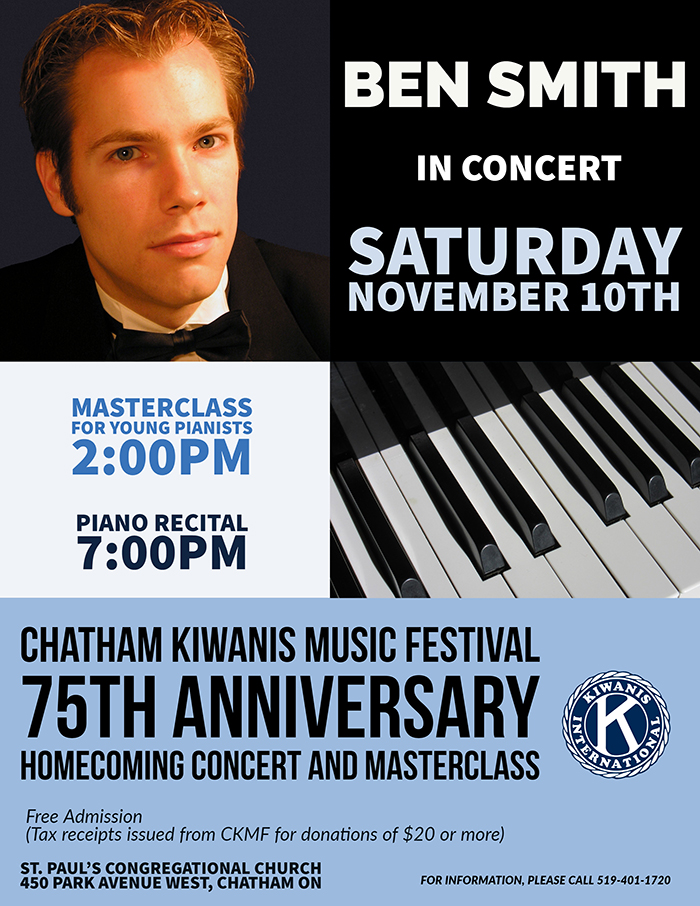 The Kiwanis Music Festival celebrates its 75th anniversary next season, a community venture that has seen thousands of kids with amazing talent take the stage.
Not all of those kids go on to promising careers in music, but all of them will remember the experience of practicing and competing.
To promote the Festival during the lead up to this important anniversary, organizers received a $7,500 grant from the South Kent Wind Donor-Advised Fund of the Chatham-Kent Community Foundation to hold a series of free educational programs and concerts. Each event will feature a free concert and a public masterclass/clinic for local musicians, and there will be a meet-and-greet after each concert.
The first in the series begins with a Ben Smith Piano recital on Nov. 10 at 7 p.m. at St. Paul's Congregational Church in Chatham.
Smith, who is a Chatham native and won virtually every award possible on the Kiwanis Music Festival stage, is currently based in Toronto and is in high demand as an adjudicator at music festivals across the country.
Christine Prosser, organizer of the concert series and local vocal teacher, said she also started competing at the Festival at the age of eight, winning the Rose Bowl in vocal performance, and knows the value of experience in the arts for children.
"There has already been a tremendous amount of interest in Ben's concert, with outstanding young pianists from all across Southwestern Ontario coming to perform for Ben in order to receive feedback about their playing," Prosser said.
Smith's journey as a pianist, from an early age, is an impressive one, according to Prosser.
"Ben's mom Julia, discovered that Ben had perfect pitch before the age of three. Perfect pitch is when you play a note and the musician, without looking at the instrument, can say that's an A or that's a C," Prosser noted. "Not many people have that ability."
Juilliard-trained, Smith has performed twice at Carnegie Hall, records music for CBC Radio 2, plays at music festivals across North America and is a very busy performer. Prosser said the last time he performed in Chatham was 2005.
A remarkable piano player, Prosser said she recalls a time when she working with her students who were competing in the Festival.
"When Ben was still a teenager, he often accompanied singers and instrumentalists in the music festival. He arrived at my house for a second rehearsal with one of my students, and I let him know when he arrived that I was having difficulty finding an original copy of the music for him to use.  'Don't worry about that,' he said. 'I can play it from memory.' At that, he proceeded to take a brief look at the music, handed it back to me, sat down at the piano and played the entire song for memory. A rare talent, indeed," Prosser recalled.
Smith will be playing several classical pieces at his concert, including sonatas from Handel, Beethoven, Schubert and Brahms.
The concert series will continue with Heather Kosik's Cabaret concert Jan. 26 at Studio One, and then a Jamie Hillman Choral Festival, April 27 at the Kiwanis Theatre. Concerts are free to the public thanks to the grant from the Community Fund.