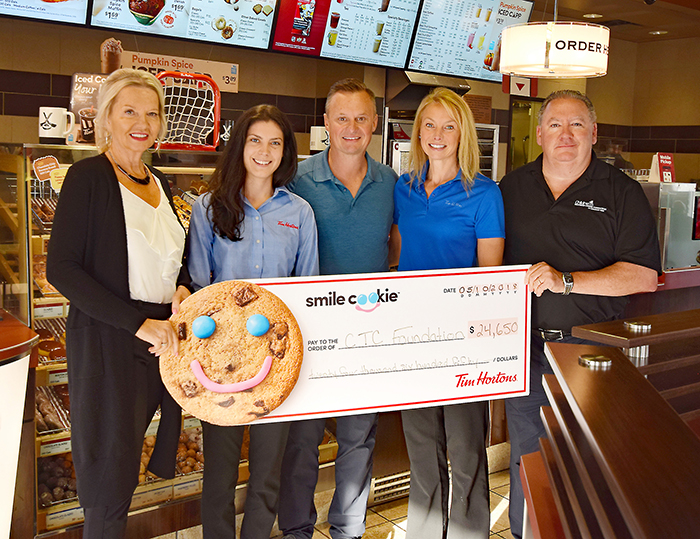 Those smiles are worth $24,650.
That's the amount a trio of Tim Hortons owners donated in proceeds from the annual $1 Smile Cookie campaign.
From Sept. 17-23, every Smile Cookie sold at the participating Tim Hortons went towards the Butterfly Build Campaign of Children's Treatment Centre of Chatham-Kent.
"The Children's Treatment Centre and Foundation are excited that local Tim Hortons' decided to support us again this year with their Smile Cookie campaign," Mike Genge, Executive Director of the Children's Treatment Centre Foundation, said in a media release. "It was a tasty fundraiser and we are certainly honoured to be chosen as their charity of choice."
Local Tim Hortons owners, Guy Pritchard and Mike and Paula Grail participated in the program.
At present, daily therapy and counseling sessions and individual case management is squeezed into the existing 25,000 square-foot site on Lark Street in Chatham.
The CTC has grown from serving 224 children and youth in 1984 to now serving a total of 3,200 in 2018. That's an increase of over 1,000 per cent in caseload. By 2020, the CTC-CK will serve 4,500 clients; which equals to one in every five Chatham-Kent children.
"Thank you to the community for your tremendous support of this years very successful Smile Cookie campaign. With the funds going toward a new Children's Treatment Centre facility, it truly feels like the community will have helped to build it," said Mike and Paula Grail. "The employee support for this charity is key. So many team members have personal connections to the Children's Treatment Centre that it makes it easy to ask a guest if they want to buy a Smile Cookie.
Comments
comments