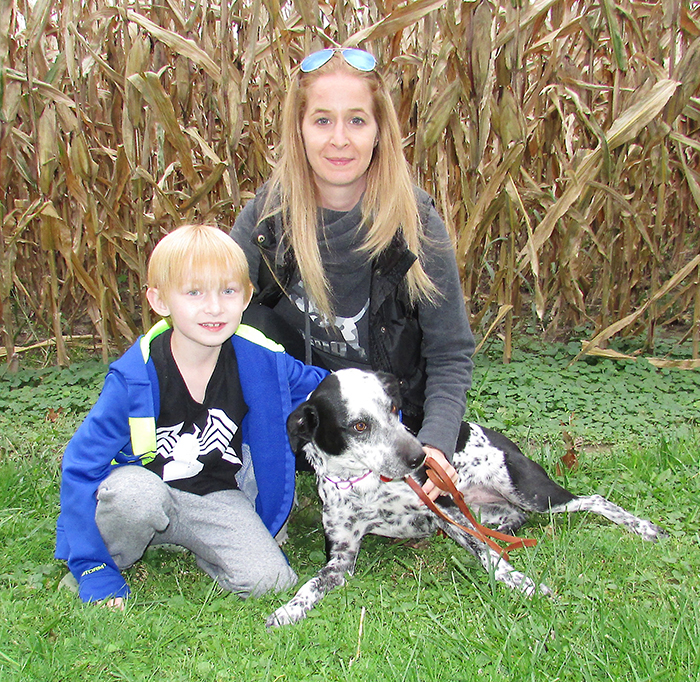 From Dalmatians to chickens, the coyotes of Chatham-Kent have been aggressive this fall.
Caitlin Wrobel, who lives on Creek Road near English Line, said coyotes mauled her young Dalmatian recently.
"We believe the coyotes ambushed her in the cornfield and dragged her in and tore her up pretty well," she said. "My son was just getting out of the pool. We decided to let her (the Dalmatian) off the leash. She was up behind the pool where we couldn't see and that's when they grabbed her. It was right at dusk. They (the coyotes) have never come up that close to the house before."
Wrobel thinks her pooch, Zoey, wiggled out of her collar and got free. The dog made it to the back door of the house.
"The blood – it looked like I'd murdered somebody in the backyard with all of it," Wrobel said. "We had to spend a lot of money at the vet and had to come to the decision to take her tail off."
While Zoey is healing, Wrobel said, she hasn't recovered from the effects of the attack.
"Zoey's a rescue puppy. She's had a tough life and this happened to her," she said. "She's doing well now. She still has the scars and scabs. But she's very skittish at night now going outside."
Meanwhile, on Selton Line east of Thamesville, Michelle Owchar has seen the population of her free-range chickens decimated. The chickens have a penchant for slipping into the adjacent cornfield. Unfortunately, that's where the coyotes have set their trap.
"They seem to be smart enough that they just roam around the first few rows of corn and wait to grab our chickens," Owchar said. "They seem to be attracted to white. They got all our white chickens and only a few of our brown ones."
Owchar said the coyotes will wander through their property periodically.
"They'll come right into our yard. My daughter was on our front porch on the weekend and saw a coyote come right out of the cornfield and walk across the front of our property," she said. "We can hear them howling at night too. We won't even let our dogs out without us there with them."
Jason Hamm, manager of animal control services for Pet and Wildlife Rescue, said the organization hasn't received any calls about coyote attacks, but instead have fielded phone calls about dogs on the loose, only to discover they were coyotes.
He encourages people to let PAWR know when there's been an attack.
"If anybody has any concerns regarding coyotes, give us a call right away. We can assist or get in touch with the proper agency that can help," Hamm said.
You can reach PAWR at 226-996-9969.
The two attacks mentioned in this story occurred in rural Chatham-Kent. In Lasalle near Windsor, police say coyotes attacked a small dog last month in an urban area.