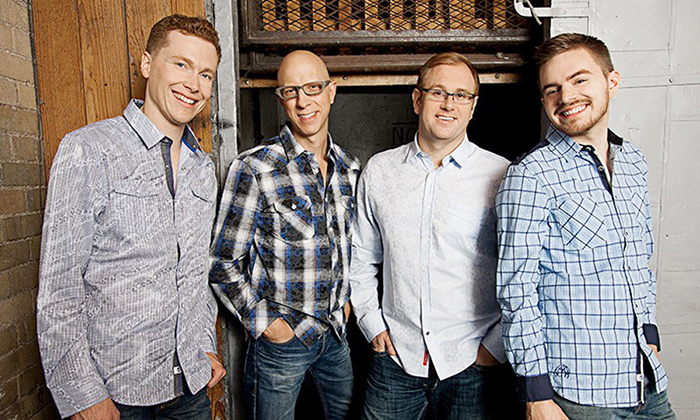 Four men. Four microphones. No instruments. This is the formula for Cadence, Canada's award-winning a cappella group from Toronto.
The group is returning by popular demand to perform at St. Andrew's United Church on Oct. 20 at 7 p.m. This is the first concert of the 2018-19 and sixth season of Saturdays at 7 at St. Andrew's.
Based in Toronto, this a cappella ensemble has been wowing audiences across the country and around the world for 20 years. Whether performing at jazz clubs and concert halls, at music festivals, for educational outreach, or for corporate functions, the members of Cadence bring an infectious energy and uncanny verve to every song they sing, whether it be a classic song by Joni Mitchell or Louis Prima. It may be an old bebop standard or cheeky arrangement of a 1980s hit.
Their arrangements contain all the richness of a full band, but performed using just four voices. On-stage antics and audience participation are par for the course at any Cadence show, but so too is a mesmerizing display of musical genius.
The group's four critically acclaimed studio albums have won or been nominated for numerous awards, including three nods from the JUNO Awards and 10 from CARA, the Contemporary A Cappella Recording Awards. Cadence has just released a new CD.
The band is made up of David Lane (baritone and bass), Ross Lynde (tenor), Lucas Marchand (tenor), and Kurt Sampson (bass and vocal percussion).
Cadence will also conduct a workshop the precious day for high school students of the Lambton Kent District School Board at which they will demonstrate vocal performance tips with the students.
St. Andrew's United Church is located at 85 William St. S, Chatham. Doors open at 6:30 p.m. Free will offering (suggested donation of $10 per adult). All are welcome.
Comments
comments