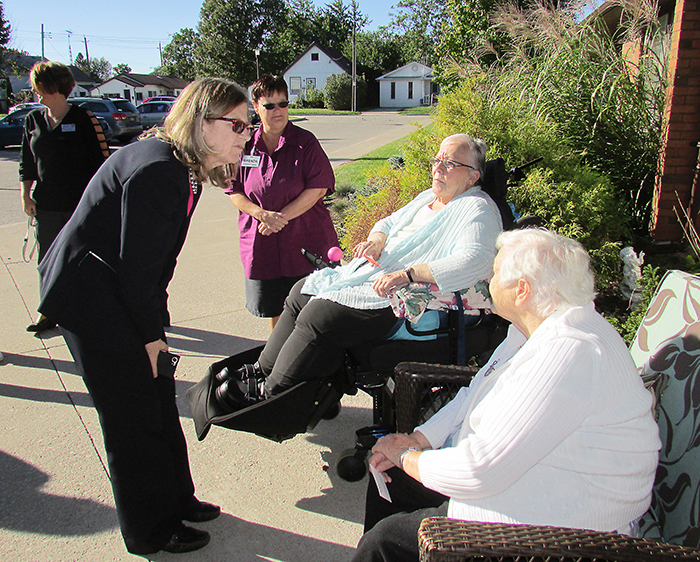 Nurses across the province are getting to share their experiences, concerns and solutions related to their practice and the health system as a whole with the Registered Nurses' Association of Ontario's (RNAO) CEO, including a stop recently in Chatham.
As part of RNAO's fourth-annual fall tour, CEO Doris Grinspun met registered nurses, nurse practitioners and nursing students in Windsor, Chatham and Petrolia to discuss the key health issues they believe should be front and centre for the new Ontario government.
"We are eager to hear firsthand from nurses in the communities where they live and work and learn about how we can better meet the needs of Ontarians," said Grinspun. "We encourage all nurses and nursing students to come out and speak about the important issues to them and the populations they serve."
Grinspun said she wants to hear about barriers for nurses in the workplace and also the opportunities that exist.
"I wanted to meet with nurses in the field to see how things are going," the CEO said. "One of the challenges I hear about often are the heavy workloads. Also noted is the fact organizations don't have an adequate number of RNs to provide the care that people require and not because there aren't enough RNs, but because some organizations aren't enlightened enough to understand that RNs actually don't cost more, they save money for the system and provide better outcomes."
The other issue discussed, Grinspun said, pertained to nursing homes and the "archaic funding formula that this province of Ontario has for the last couple of decades."
She said her organization has been encouraging the government, both past and present, to modernize the funding formula for long-term care to account for both complexity of needs and quality outcomes.
She said right now, the system only focuses on complexity of the health issues of residents.
The results of programs like Best Practice Spotlight Organizations of the RNAO, which Meadow Park is part of, you see better outcomes like less falls, less use of restraints, less bedsores and less incidences of violent behaviour and agitation that are a normal part of aging.
"Complexity starts to get reduced because residents are doing better and what does the government do? They claw back the funding because there is less complexity. We are saying that is penalizing organizations that provide good care," Grinspun said. "We want organizations to be able to keep that funding even if the complexity rating goes down, and then reinvest what we would call quality outcomes funding into more programs for residents."
Grinspun also visited the Chatham-Kent Health Alliance with Region 1 RNAO board representative Betty Oldershaw, and said she is pleased to see the work the hospital is also doing with Best Practice Spotlight.