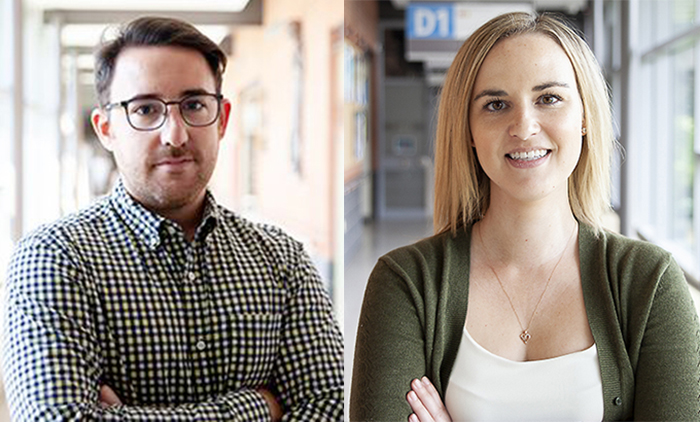 Chatham-Kent Health Alliance (CKHA) has added two new physicians to the organization.
Both are starting in October. Dr. Steven Rioux joined CKHA as a Family Medicine Physician and Dr. Shannon Milkovic will join CKHA as a Family Medicine Resident.
"Chatham-Kent Health Alliance is pleased to welcome doctors Rioux and Milkovic to our clinical team," Dr. Pervez Faruqi, Chief of Staff, CKHA, said in a media release. "New and training physicians provide our staff with an excellent opportunity to share their knowledge and experience with a new generation of physicians as they work together to provide quality, Patient and Family Centred Care to our community."
Rioux started as a Family Medicine Physician at CKHA on Oct. 1. After growing up in Kitchener-Waterloo Region, he received a Bachelor of Medical Sciences, Honors Specialization, at the University of Western Ontario. He then attended St. George's University School of Medicine in Grenada where he earned his Doctor of Medicine and graduated magna cum laude in 2015.
Following this, Dr. Rioux returned to North American to complete his Family Medicine Residency at the St. John Hospital and Medical Centre in Detroit, Mich. in 2018. "Chatham-Kent Health Alliance offers a nice facility and friendly staff which influenced my choice to join the organization," says Dr. Rioux. "I'm excited to be a part of the team and to live closer to family."
Starting later in October, Milkovic joins CKHA as a first-year Family Medicine Resident. She graduated from the University of Western Ontario in 2013, where she earned a Bachelor of Medical Sciences, Honors and was a Western Scholar. She later completed her formal education at University of Limerick, Ireland, where she earned a Bachelor of Medicine and Bachelor of Surgery in 2018.
While studying at UWO, Milkovic spent her summers volunteering in CKHA's Ambulatory Care and Day Surgery departments.
"Although I enjoyed the opportunity to travel and study abroad, I look forward to being back in Chatham-Kent and serving the community that I grew up in," Milkovic said.
As a Resident, Milkovic will spend the next two years gaining experience from local physicians who provide support and direction to complete the hands-on portion of her medical training. She joins first-year Residents Dr. Lanz-O'Brien and Dr. Brent Rowden, as well as second-year Family Medicine Residents Dr. Rob Wismer, Dr. Aaron Gross, Dr. Adam McDowall and Dr. Hina Jhawer.
Comments
comments