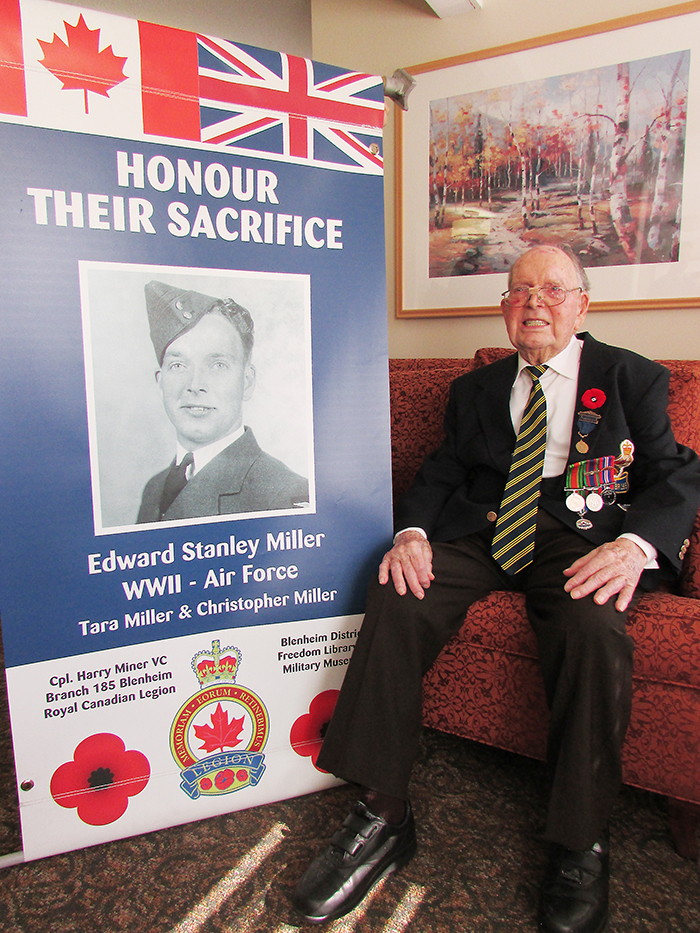 If you take the time to sit down with Ed Miller of Blenheim and talk about his past as an airframe mechanic in England during the Second World War, he doesn't remember every detail. At 105 years old, not many people would.
But what you do learn about Miller is that he is a humble man, who was honoured to serve his country, and talks as if meeting the Queen of England while he was with the 405 Bomber Squadron "Lancasters" was just "a bit something."
When asked if he was excited about his big milestone birthday, Miller's reply was a dry, "not particularly," but the twinkle in his eye told you he was enjoying getting dressed up and getting together with friends.
As a member of the RCAF (Royal Canadian Air Force), Miller was sent overseas in January of 1942, where he was put in charge of the squadron maintenance hangar, one which had one of the best service records in England.
"When I went over there, they moved me up from looking after one plane to a whole squadron," Miller said in an interview. "It was an interesting job. Everything was hurry and get it done and get it done right."
A decorated airman, Miller was several medals and awards, including 1939-45 War Medal, Oak Leaf Emblem, Defense Medal, and a Bomber Command Bar.
"I have medals but not for anything very daring," Miller said with a smile.
He remembers one close call from a German Buzz bomb, a V1 unmanned flying bomb, that was overhead when its loud motor quit and they knew it was crash-landing. He and his fellow airmen took cover underneath a truck in the dark, but thankfully, the bomb landed further away and no one was injured.
Originally from British Columbia, Miller grew up in Cedar Springs, he had three brothers, all in the RCAF and three sisters, one of whom was also in the RCAF.
A big part of the Royal Canadian Legion in Blenheim, Miller was President in 1948, shortly after getting home from England in 1945, and has been an involved member ever since.
Comments
comments