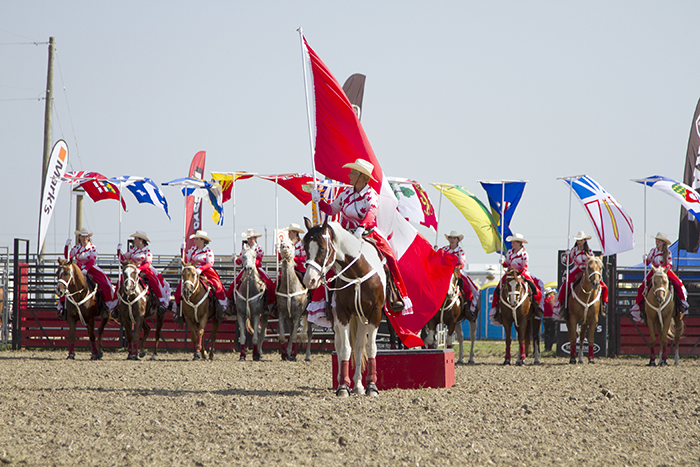 The final day at the 2018 International Plowing Match and Rural Expo in Pain Court, Chatham-Kent, saw families by the thousands attend for BMO Kid's Day, with free entry, a pancake breakfast, and children's activities.
Plowing competitions wrapped up Saturday with a junior plowing competition and, at 11 a.m., IPM 2018 Official Mascot Tobe Cobe Jr. led a vintage fire truck parade, courtesy of Chatham-Kent FireFest organizers.
There's a new Ontario Queen of the Furrow – Derika Nauta of Tavistock (Oxford County), who was crowned on Friday evening during the IPM 2018 Celebration of Excellence.
In other events, a new IPM record for Most People Eating Corn on The Cob at One Time was established, with 1,125 people taking part.
At the closing ceremony, there was a real sense of community achievement, according to organizers.
"It's been a whirlwind; it's been a fun time," said Dave Murray, President of the Ontario Plowmen's Association, in a media release. "Thank you to the community for coming out and supporting this, also to people across the province. Now's the time that we turn the reins over to our friends in West Nipissing. From an Ontario Plowmen's perspective, we're there to help them and made it another successful event."
This year's co-chairs Darrin Canniff and Leon Leclair noted how people from all over Chatham-Kent came together for the project.
"I am ecstatic with the support from the community," said Leclair. "The volunteers were top-notch, bar none! They deserve all the credit. Darrin and I had the best jobs ever."
"We had over a thousand amazing volunteers," said Canniff. "I got to meet hundreds of people in this community who stepped up. I always knew there were many wonderful people in Chatham-Kent but this event has taken that perception to the next level!"
"The rural-urban divide doesn't exist here in Chatham-Kent," added Leclair. "Half of our executive team members are urban and the other half are rural."
In the final ceremonies, representatives of Chatham-Kent presented Canada, Ontario and OPA flags to their counterparts from the 2019 IPM in Verner (West Nipissing). In a traditional IPM ceremony, Chatham-Kent landowner and Mayor of IPM 2018 Tented City, Jean Marie Laprise, presented Daniel Olivier, Co-chair of the 2019 Tented City in Verner, with a gift of fertile local soil.
"It's all about the land and the life we cultivate from it," said Laprise.
Comments
comments