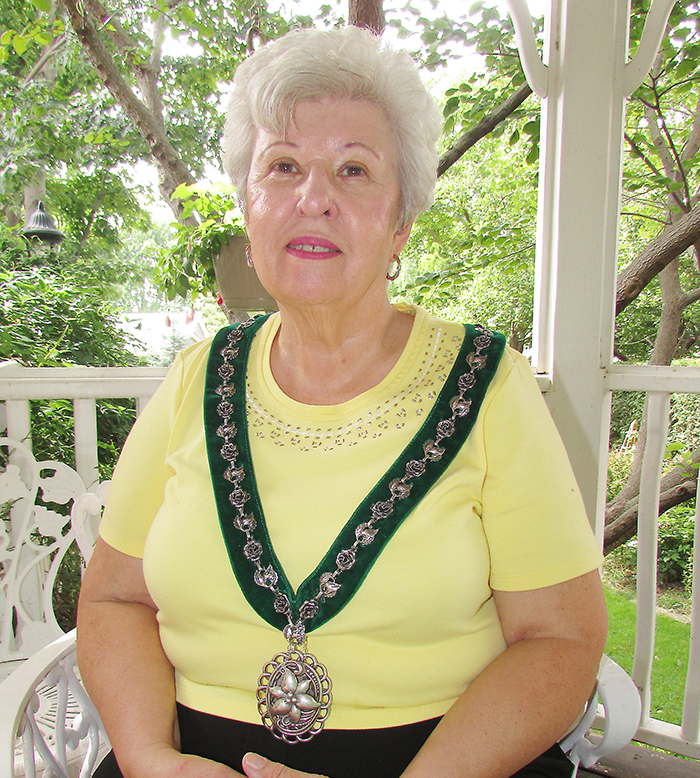 Since retiring from St. Joseph's Hospital laboratory 20 years ago, Kathy Smyth of Tilbury has turned her green thumb and welcoming home into a labour of love at Katharine's Bed and Breakfast in Tilbury, and a new position as president of the Ontario Horticultural Association (OHA).
Smyth, whose love of gardening came from days of going with her mom to pick up flowers, has been involved with the Tilbury and District Horticultural Society for years.
"I've been a member of the Tilbury Horticultural Society for 18 years, since I joined in 1999, and have held various positions," Smyth said. "I've been a board member of the OHA for six years, representing District 11, which consists of Essex and Lambton Counties and Chatham-Kent."
With a beautifully landscaped property in Tilbury, Smyth said she has had a love of gardening her whole life, and her retirement allowed her to pursue that hobby. As the incoming president of the OHA, she said she was nominated and then acclaimed to the position.
There are 19 districts, 289 horticultural societies and 28,000-plus members in Ontario, according to Smyth, and the organization has not had a convention since 2003.
That will be changing in 2019 as Smyth is tasked with organizing the OHA convention being held in Windsor July 20-22 at Best Western and St. Clair College. Smyth said the theme of the convention is, "Come to the Deep South Where Everything Grows," and it will feature Chatham-Kent's Kim Cooper as a speaker on the topic of How We Grow the World.
The main speaker for the event, who Smyth is very pleased to have at the convention, is David Phillips, a senior climatologist for Environment Canada, and a dynamic speaker.
Matt Korpan from Truly Green will also be on hand to speak about his company's partnership with Greenfield Ethanol in harnessing the steam from the production facility and piping it across the road to the greenhouses to heat the facility – an excellent example of green energy.
Smyth, with years of experience and knowledge, is set to take on the tasks ahead of her next year as president, convention chair and small business owner. She is looking forward to a full weekend at the convention with bus trips, seminar sessions and featured speakers.
"There will be sessions on different horticultural topics and people from different districts will get a chance to see a different area and what grows here. From North Bay to Cornwall to the south, it can be very different," Smyth said. "We also have a native plants vendor lined up from Amherstburg."
Gardening is a hobby that can be very therapeutic, and Smyth said she is seeing more gardening therapy at nursing homes.
"It can really give people a purpose and a sense of peace. Instead of being confined to a chair or a bed, they can have a small garden or containers to care for and nurture," she noted.
Anyone interested in joining a horticultural society close to them can go to the gardenontario.org website for links to Ridgetown, Wheatley, Blenheim, Chatham and Tilbury, or simply call Kathy for more information at (519) 682-3706.