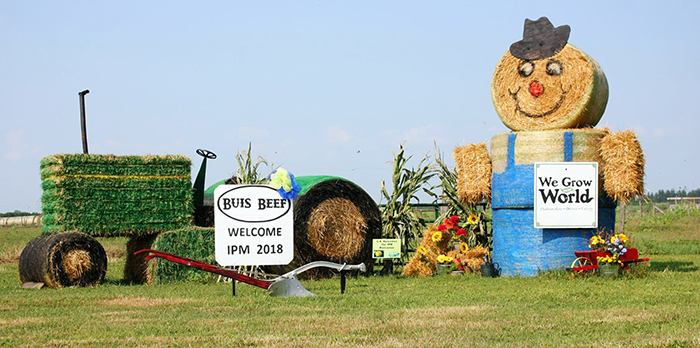 The International Plowing Match (IPM) Beautification Contest has come to a close, with first and second place awards in four different categories.
Using the theme Marigolds and Machines, contest entrants were asked to create displays which had to include the green and blue municipal colours, and according to Kathy Smyth, president of the Ontario Horticultural Society and Tilbury resident, the judges had a difficult task.
"I would like to thank all those who entered the IPM Beautification Contest of Machines and Marigolds. Three judges had a very hard time picking out first and second-place winners from amongst all the entries," said Smyth.
From dozens of entries, the judges were able to pick a first and second place entries and each winner will be presented a sign – International Plowing Match, Plowing Match Pride Winner 2018 – to be placed in the front of their display.
An 8×10 photo of their entry will be displayed at the IPM in Pain Court Sept. 18-22 and visitors will be able to vote for the People's Choice Award.
The following is a list of the winners.
Business: First Place – Benninger's; Second Place – Ron Peltier Trucking
Farms: Buis Beef Farm – First Place; Second Place- Miriam Ivison
Residential: First Place – John and Simone Bourdeau; Second place – Heather Loucks
Schools/Churches: First Place – Ecole Ste. Catherine; Second Place – University of Guelph, Ridgetown Campus.