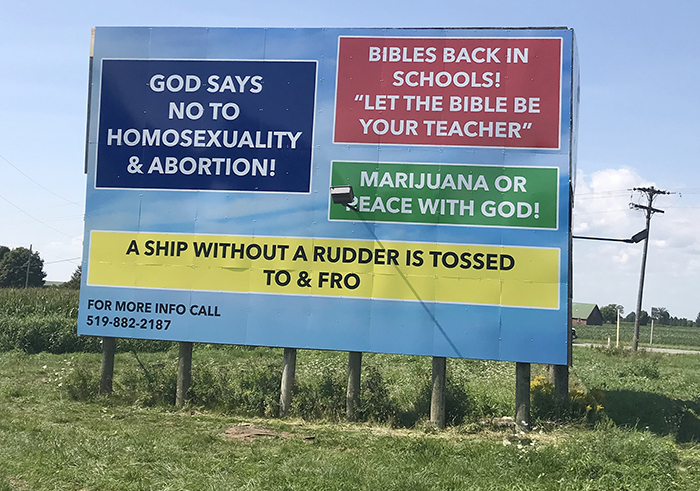 An anti-gay billboard erected near Dresden "attacks the very soul of Chatham-Kent," according to the head of the local Pride Association.
Marianne Wilson, president of the Chatham-Kent Gay Pride Association, said the billboard – located at the intersection of Highway 21, Kent Bridge Road and Countryview Line south of Dresden – doesn't just attack the LGBTQ+ (lesbian, gay, bisexual, transgendered, questioning) community, but the entire municipality.
A large portion of the sign reads, "God says no to homosexuality & abortion."
"This opinion attacks the very soul of Chatham-Kent. It says to new investors, new businesses, new residents to the area, or those seeking a move, that Chatham-Kent is not open to diversity; that we are closed minded; that we don't want people with differing opinions from our own living near us," Wilson said in a media release.
"I believe that this is the furthest from the truth. The outstanding Week of Pride has illustrated this for all of us. We are a unified, open, and welcoming community of diversity. This was celebrated vibrantly," she added.
Calls by The Voice to the phone number on the sign did not even go through. We received a fast busy signal.
Chatham Coun. Brock McGregor, who has served as a liaison between council and the Gay Pride Association, called the sign "hateful."
"It's a message that comes from a place that demonstrates hate. I'm not a legal expert, but I think that message is hateful," he said. "It's something the municipality is looking at and something a lot of people are asking about."
McGregor added it's one person's opinion, and something that does not reflect the reality in Chatham-Kent.
"This is one individual trying to spread a hateful message. I'm proud the community is responding with a positive message," he said. "Over the Pride Weekend, we saw a massive outpouring of support and positive messages. That's reflective of our community."
What is also reflective, McGregor said, is the backlash on social media by the community to the sign.
"We've seen members of the community sharing their opinion that they don't agree with what's up there," he said. "Whenever you see a message of hate, there's an opportunity for the community to demonstrate that's not what we're about. I think you'll see more of that in the coming days and weeks."
Wilson said everyone has a right to express their opinions and not everyone agrees on everything, but communication can lead to understanding.
"We can all exist in Chatham-Kent and still disagree on issues; it's how we communicate about our differences that matters. It's about taking a step back and thinking thoughtfully about what the purpose of the message is," she said. "We don't need to resort to fighting with each other or damaging people's property, we need to come together in open dialogue so that we can agree to disagree but have an understanding of each other's perspective."
Wilson said of concern is the serious potential impact of the negativity of the sign on young LGBTQ+ individuals in C-K.
Rainbow Health Ontario stats from 2018 show alarming rates of LGBTQ+ youth suicide related to their sexual orientation, she said.
"Messages like this billboard only inflame this potential in our community. The impact of this message affects everyone in Chatham-Kent," she said.
The sign also reads "Bibles back in schools! 'Let the bible be your teacher;'" "Marijuana or peace with God;" and "A ship without a rudder is tossed to & fro."
Comments
comments