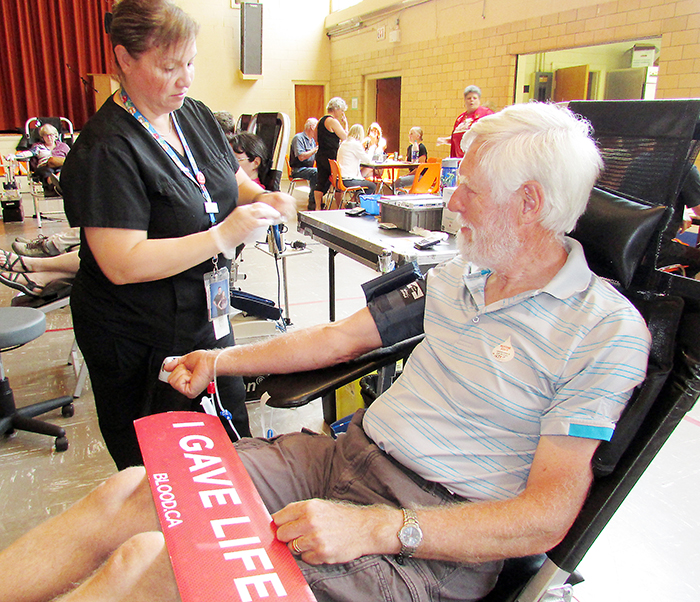 Paul Van Hardeveld first donated blood nearly 50 years ago, mostly out of curiosity. But that first visit got him hooked on helping others, as the local man has now donated blood a total of 200 times.
Van Hardeveld said it all began when he was in Hamilton attending Mohawk College in the fall of 1968.
"I decided to drop in at an open clinic to help somebody out," he said.
He discovered the uses for donated blood go well beyond just using whole blood, as elements within the blood, such as plasma and red blood cells, are utilized as well.
"Why not do this," he said.
His donations have continued to this day. Initially, you could only give four times a year, but that was later increased to six times per annum.
And Van Hardeveld has lined up whenever possible.
He does it to assist others, but also donates in memory of his mother and his great aunt.
Van Hardeveld said his mother was a nurse on a Dutch inland hospital ship for a number of weeks, while his great aunt was a full-time nurse with the Red Cross in the Netherlands during the Second World War.
He explained she also worked with the underground as a courier. The Germans found out and had her killed on the eve of Dutch Liberation on May 4, 1945.
Angela O'Brien, a donor care associate who took Van Hardeveld's 200th blood donation, said he has good veins, which makes it easy for an associate to insert the needle.
Van Hardeveld said he uses both arms to give.
"I keep rotating my arms to donate so one arm doesn't end up like Swiss cheese," he joked.
Van Hardeveld said he has no plans to stop giving blood any time soon.
"I will give blood for as long as I can," he said. "Donating makes you feel good. It's for an excellent cause."
Van Hardeveld attended last Wednesday's clinic with two of his adult children in tow. He said all four of his kids work in health-care related fields, and regularly give blood as well.
According to Canadian Blood Services, approximately one out of every two Canadians will either need blood or know someone who will.