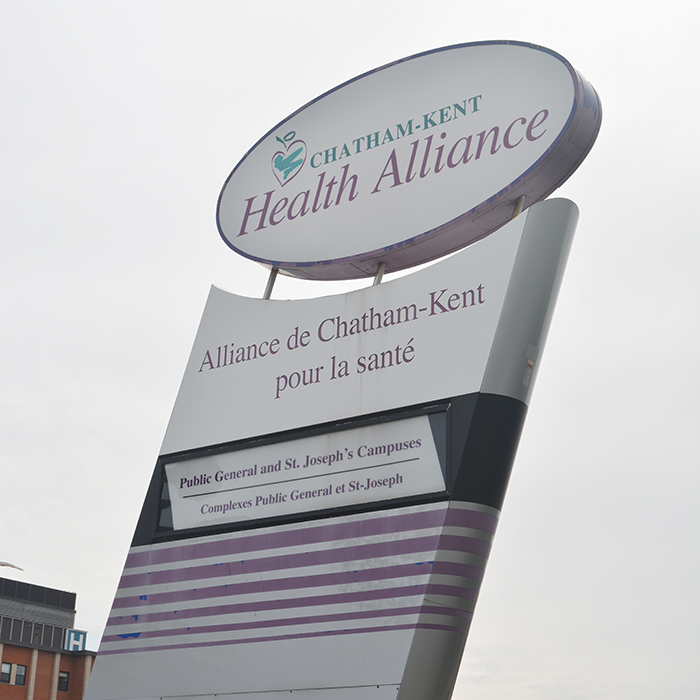 Chatham-Kent Health Alliance (CKHA) and Chatham-Kent Police Service (CKPS) have scheduled an emergency preparedness exercise at CKHA's Chatham site for Tuesday, June 5.  The exercise will simulate the Ontario Hospital Association's Emergency Code Silver, which is called in the event of a person with a weapon.
The mock Code Silver will take place in Zone A, Level 1, at CKHA's Chatham site from 5:00 p.m. to 7:00 p.m. with CKPS remaining on site for additional training exercises until 9:00 p.m.  All staff within the mock area will follow Code Silver procedures during the event.  Staff in all other units of the Chatham site will conduct tabletop sessions to identify what action staff would take in a Code Silver emergency.
According to police, visitors to the hospital will not be able to enter or exit the building through entrances/exits in Zone A, including the Ambulatory Care entrance facing Louise Street.  As an alternative, visitors are asked to use CKHA's main entrance on Grand Avenue. Otherwise, this emergency preparedness exercise should not affect patients and visitors as the Oncology and Ambulatory Care Units within Zone A, Level 1 do not have scheduled appointments during the time.
"Mock emergency scenarios provide an excellent opportunity for CKHA to test our emergency procedures, identify gaps and make appropriate changes to maximize the effectiveness of our policy," said Lori Marshall, President and CEO, CKHA. "Together with CKPS and our community partners, CKHA has been planning this mock Code Silver for months.  The incident on May 24, when police were called to manage a situation outside of the hospital, shows the importance of our training and education for our employees in order to ensure the safety of everyone at CKHA."
The Code Silver mock emergency event will include CKHA staff, physicians and volunteers, CKPS—including auxiliary police, Medavie EMS and community volunteers.
"Members of the CKPS Critical Incident Response Team (CIRT) continually train and familiarize themselves to be prepared for any type of emergency situation. In today's ever challenging environment, the ability to practice in a real environment with the actual staff ensures that the training is as accurate as possible," said Sgt. Paul Pomajba, CKPS CIRT Supervisor.
At CKHA, all staff, physicians and volunteers complete online learning modules to familiarize themselves with the Ontario Hospital Association's Emergency Codes.  The Facilities and Emergency Planning Council also complete a monthly review of all emergency codes called during that month to identify gaps and review procedures. Additional mock emergency code events and tabletop exercises are planned for the Chatham and Wallaceburg sites later in the year.