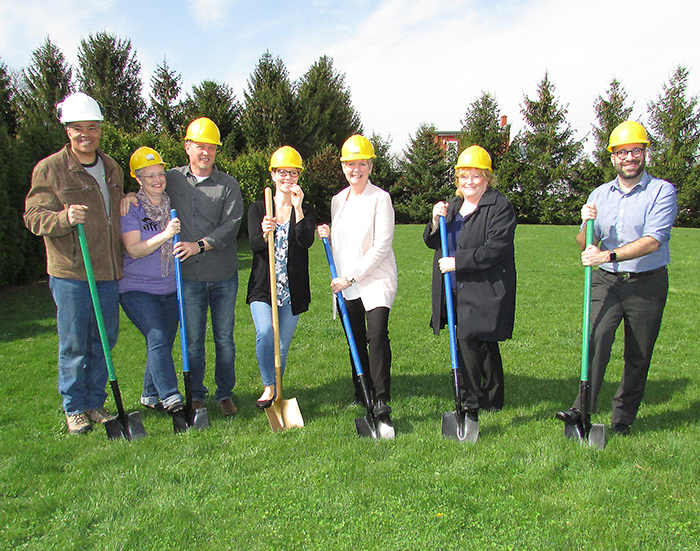 Four years ago, Cindy Krutasky promised her children she'd buy the family a home. Thanks to Habitat for Humanity and an army of volunteers, that should become a reality before this fall.
Krutasky and her two children are the recipients of this year's Habitat build project in Chatham-Kent. She and dozens of volunteers will build the house on St. Bernadette Street in Pain Court.
Krutasky at times came to tears during the announcement. She said seven years ago, "I started over, with two babies and nothing else."
She and the children have lived in an apartment building for a number of years.
"My children have never had a yard to play in or the freedom to just sit outside," she said.
Even though Krutasky had made the promise of a home to her kids, until Habitat stepped forward, she admitted it looked "grim."
But learning they would be this year's recipients of the home build changed everything.
"It was probably the best news and biggest blessing I've ever had – except for having kids. It is such a tremendous gift," she said.
Krutasky knows the home is a hand up not a hand out, and that, like previous recipients, she still has to pay a mortgage and volunteer to work on the project.
"I'm excited to work on it. I look forward to seeing the process," she said.
Nancy McDowell, executive director for Habitat for Humanity Chatham-Kent, said families with modest to low income levels are encouraged to apply for Habitat build projects.
The Pain Court home project is the fifth home Habitat will build for a family in need in Chatham-Kent, and it's in the fifth different community. The first year, it took place in Chatham; the second, in Wallaceburg, followed by Charing Cross and then Blenheim.
"Every community offered us the chance to connect with new individuals," McDowell said.
The support for the Habitat projects comes from all levels. She said any and all assistance is appreciated.
"Every hand can help. Every donation can make a difference. Everyone deserves a place to call home," she said.
Last year's build in Blenheim saw more than 90 volunteers commit close to 9,000 hours of time.
This time around, volunteers are to build a 900-square-foot, two-bedroom bungalow. Hopes are to have it completed in September.
Krutasky said she's already embracing the Pain Court community, and it has hugged back.
"I now work in this community. They've embraced us," she said.
As for the future for Krutasky and her children, she sees only sunshine.
"I did not think I'd ever own a home. This changes our dynamic," she said. "We would like to some day do foster care," she said. "This opens up so much."
Comments
comments