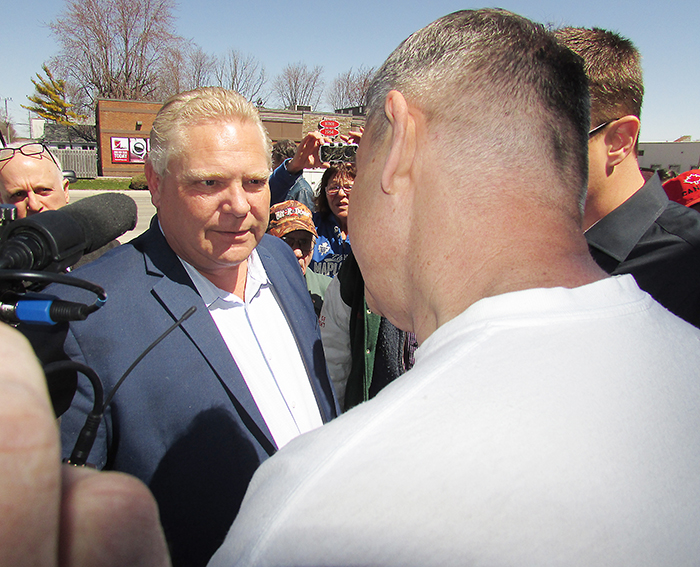 Members of Water Wells First were the first to greet Ontario Progressive Conservative Leader Doug Ford as he stepped off his campaign bus during a stop in Wallaceburg last week.
The PC leader was in Chatham-Kent for the day, visiting Country Style Donuts in Wallaceburg, a farm in Blenheim and a rally in Chatham at the John Bradley Centre.
When confronted by members of Water Wells First holding poached eggs blackened by well water polluted with black shale sediments and asked what he would do to help local farm families, WWF spokesperson Kevin Jakubec said Doug Ford refused to commit.
Jakubec said water wells at several family farms in the former Chatham Township in Chatham-Kent in the summer of 2017 became black in colour and laden with sediments containing Black Shale when pile driving construction began for the North Kent Wind farm owned by Samsung. Any food made from, washed or prepared with this well water becomes contaminated by the black shale sediments.
"We came here to put the question straight to Mr. Ford – what are you going to do about this? It's been going on since 2007. Why have both your MPPs failed in stopping this for so many years?" Jakubec said after speaking with Ford.
Several members of WWF have had their water tested, Jakubec said, at an accredited lab which shows the amount of black shale particles in one person's well was well over 600,000 particles in one millilitre of water. He said they turned over those lab tests to the Ministry of the Environment.
Water Wells First has been seeking help from the two local Conservative MPPs to solve this serious pollution of drinking water that first began in 2007 with the construction of the Marsh Line wind farm and then continued with the construction of the East St. Clair Wind farm in 2012, Jakubec stated. Both wind farms are in the former Dover township of Chatham-Kent.
"Three wind farms have been constructed in this area and three times, each time, the well water was contaminated (with sediment)," Jakubec said.
When asked specifically if Ford will commit to undertake a health hazard investigation of the contaminated wells in the area – as the Ontario NDP has committed – Jakubec said Ford said he would "look into it.
"This is not a good enough answer for these families. The families in Chatham-Kent have been forced to deal with water they can't drink, use for dishes, do laundry with, bathe in or even use for cooking. This has gone on since 2007 under the noses of two Progressive Conservative MPPs," Jakubec said. "Premier Wynne and her Liberals have ignored us, our local representatives have ignored us, and now Mr. Ford is not offering us anything different. Our families need water and they need it now. We need someone to take immediate action to fix this mess."
Jakubec said he isn't seeing the full engagement on the contamination issue from McNaughton and Nicholls, unlike Essex MPP Taras Natyshak who has repeatedly asked for a health hazard investigation in the legislature.
Both area MPPs Nicholls and McNaughton have written letters to the premier regarding the wind turbine issue and contamination of wells since the issue started but neither has committed to asking for a health hazard investigation to see how the long-term ingestion of black shale will affect the health of people with contaminated wells.
Ford said he heard the concerns of the people of WWF.
"This a serious issue here and I give you my word, we're going to address it. I can't stand wind turbines; I can't stand how they are destroying areas and communities and I'm going to do everything I can to halt any other wind turbine farms and I'm going to address the ones that are going in. You have a huge supporter here," Ford said to Jakubec after hearing his questions. "As for the local MPPs, when you aren't in power, your hands are certainly tied. When we are in power June 7, we're going to address it. It will be my number one issue. And what I say I'm going to do, I do. No one has been more vocal about these wind farms than Doug Ford – no one. I'm giving you my word."
Comments
comments