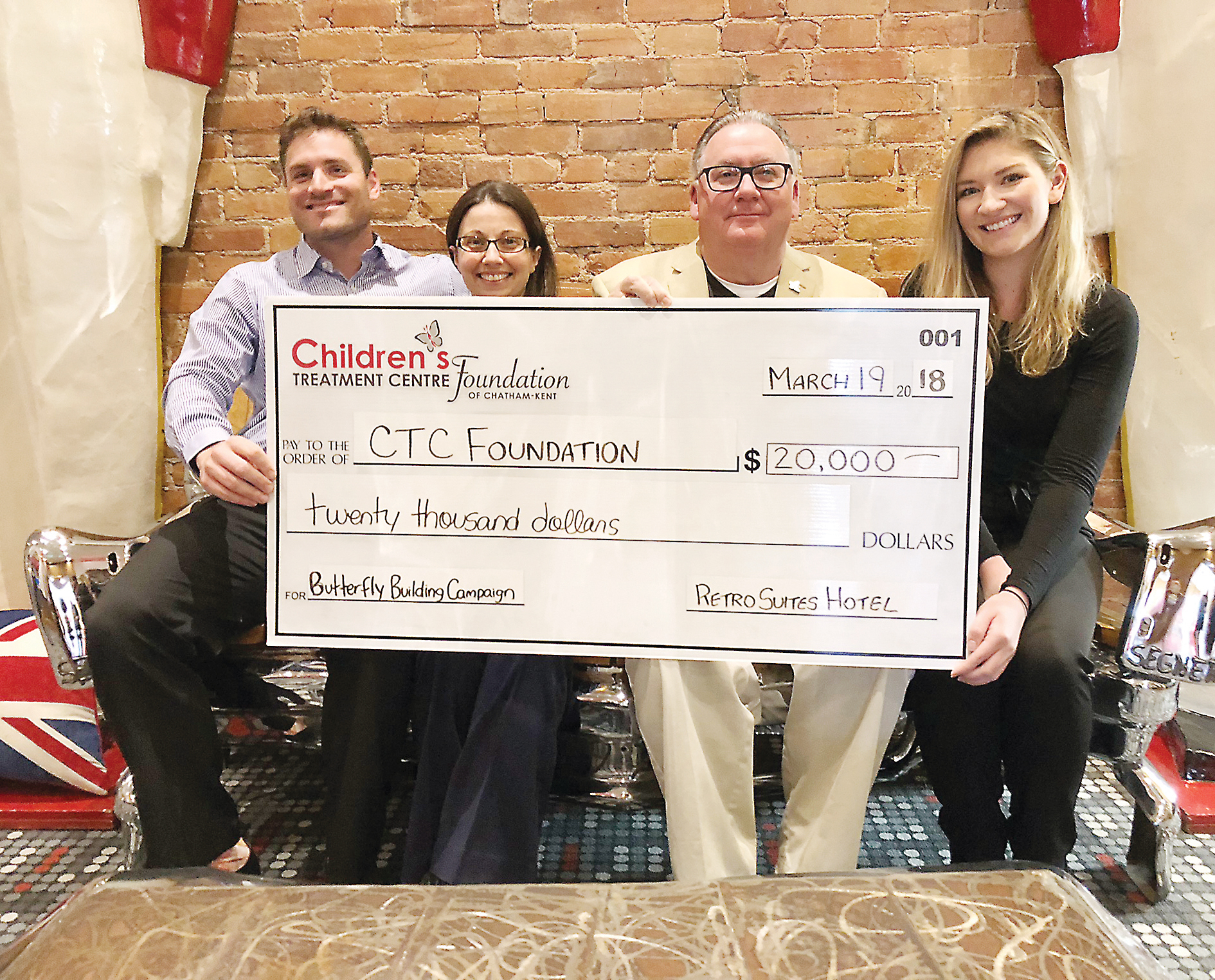 Retro Suites Hotel recently provided the Children's Treatment Centre Foundation of Chatham-Kent with a $20,000 gift in support of its Butterfly Building Campaign.
Due to the growing demand for specialized therapy for children with special needs in Chatham-Kent, the Children's Treatment Centre of Chatham-Kent (CTC-CK) is building a larger, more accessible facility to better accommodate the growing caseload.
The Butterfly Building Campaign will build a new 50,000 sq. ft. facility on McNaughton Avenue in Chatham.
Since building the current facility 34 years ago, the CTC-CK has grown from serving 224 people in 1984 to now serving 3,200 children and youth in 2018 – a caseload increase of more than 1,000 per cent.
By 2020, the CTCCK will serve 4,500 clients, which translates to one-in-five Chatham-Kent children.
"Staff and management at the Retro Suites can all think of a friend or family member who has been impacted by services offered at the Children's Treatment Centre" Pete Tsirimbis, General Manager of the Retro Suites Hotel, said in a media release. "Last year, one-in-nine children and youth in Chatham- Kent benefitted from the CTC-CK. With a growing need for services this number is expected to reach one-in-five by 2020 and that's why Retro Suites Hotel is thrilled to be one of many community partners who recognize the importance of the new Butterfly Building Campaign to enrich the lives of our children, families and community."
In addition to their donation, Retro Suites Hotel staff will be going Over The Edge with the Children's Treatment Centre Foundation this summer. On June 23, 92 people will have the opportunity to rappel 10 storeys down the side of the Holiday Inn Express & Suites, with their family, friends and the community there to watch.
"Community support is crucial at this stage in our campaign" Mike Genge, Executive
Director of the Children's Treatment Centre Foundation, said. "We're thrilled that businesses in Chatham-Kent, like the Retro Suites Hotel, understand and support the need to build a new Children's Treatment Centre."