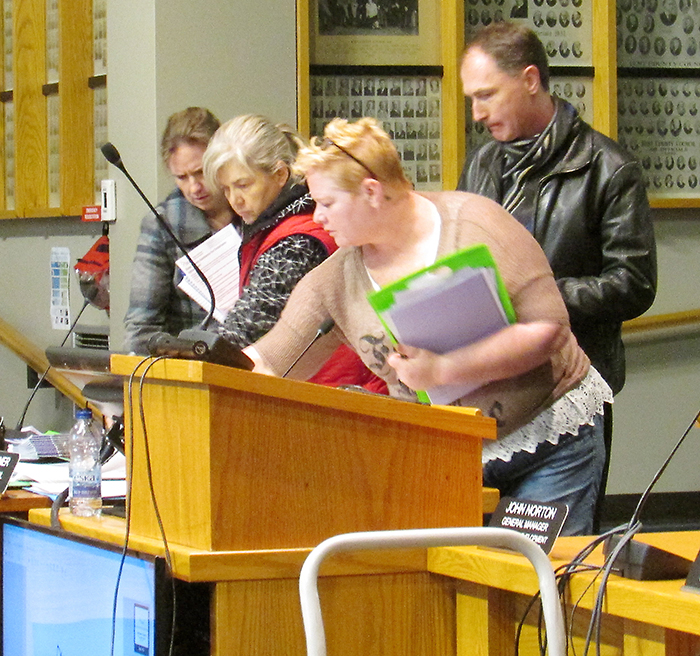 Ministry of Municipal Affairs personnel hosted two meetings with the public last week to explain who qualifies for assistance from the province, and for what.
They also let people know they have until July 3 to apply for assistance.
Sessions took place in Chatham on March 7 and in Thamesville March 8.
At the Chatham session, which took place in council chambers at the Civic Centre, about 45 people showed up to hear what the Disaster Recovery Assistance for Ontarians Program would cover, and also what it would not.
Niamh Hill, a senior program advisor with the Ministry of Municipal Affairs and Housing, led the meeting. She explained her job is to provide oversight of incoming disaster relief requests.
Sections of Chatham and Thamesville along the Thames River qualify for assistance from the programs. The boundaries of the impacted areas can be found at mah.gov.on.ca/Page18713.aspx.
Hill said while the area as outlined on the online maps is known as the "activation area" if someone was impacted by the flood and lives outside that area, they are to let provincial officials know.
"The province's intention is to include everyone affected by the flood. We make these maps based on preliminary information that's available at the time," she said.
Hill explained that eligible applicants could receive financial assistance for emergency expenses and costs for repair or replacement of essential property. The intent of the program is to return essential property to its basic function.
The program covers the cost of returning property to a basic standard, and cannot be used for making improvements. Financial assistance under the program is subject to caps and deductibles.
The program is still in its infancy in Ontario, as it just turned two. Hill said it is only enacted in special circumstances, "where there is a natural event that is sudden, costly and widespread."
There are three cost categories covered by the assistance program, emergency evacuation and living expenses; emergency measures, including cleanup, disinfection and disposal expenses; and repair and replacement expenses.
In all cases, keep your receipts and document the work closely.
Hill said the province started receiving word from the municipality on Feb. 19 that there was fairly extensive flooding in Thamesville and Chatham. She commended the municipal personnel for acting so quickly to inform the province on what was taking place.
Once the assistance program is enacted, impacted residents and small business owners have 120 days to put together an application package and submit it to the ministry. Locally, that means people have until July 3.
The assistance program applies locally to homeowners, tenants and small business and farm owners, as well as non-profit organizations, who suffered damage from flooding from overland water, as well as groundwater infiltration where the sump pump couldn't keep up with the water coming through the foundation.
Hill said what isn't covered by the program is damage caused by sewer backup, as this is generally covered by an insurance provider.
But if someone suffered from a combination of overland and sewer flooding, Hill urged them to submit an application, as some of it could be covered by the program.
Hill said there are many common delays in hearing back on if you are approved for funding. She advised people to make sure their applications are signed and all support documentation is included.
Hill added some people might have to make two applications. For example, if a person operates a small business out of his or her home, then they'd apply as a homeowner and a business owner.
For Brett Smith, owner of Forsyth Travel located on Thames Street, he will likely have to make multiple applications. He's the owner of the small business, while RG Forsyth Holdings owns the building. The latter is owned by Bob and Janet Forsyth, who started the business back in 1948.
The building saw a couple of inches of water cover the main floor during the worst of the flooding.
Forsyth thinks the effort fighting the water during the flood was worth it. He said he had three pumps going "full tilt" during the worst of it. Afterwards, he ran five fans and three dehumidifiers to dry out the carpet.
"I have to fill out applications and send it in with quotes to see what they would do," Smith said.
For small business owners, the program will pay for up to 40 hours of your own labour related to flood cleanup, at the provincial minimum wage mark. Smith said he had a number of others come in to help.
"All the man hours we did, we came in with family and friends and did all the work. Unless I write them a cheque, we don't qualify for funding," he said. "If I'd hired it out and paid someone to come in, I'd probably be covered."
Hill confirmed if you paid for a company to do the work, you could qualify for reimbursement.
In regard to repair and replacement, Hill said the program only covers essential items, such as the replacement of furnaces, hot water tanks, washers, dryers and even freezers and contents that have spoiled.
Walls, flooring and finishes are only covered for damage on the main floor of a building, not the basement.
Also, if you lost electronics in the flood, don't expect provincial funding to replace it. Hill said recreational electronics, entertainment systems, sports equipment and decor aren't covered by the program.
Hill added the program works with your insurance.
"Any funds you receive from your insurance company will be deducted from your eligible costs," she said.
During the meeting, Hill walked those in attendance through the application process and showed examples of needed invoices and other support information, including photographs.
If everything is submitted properly, Hill said applicants should receive a confirmation of receipt within two weeks of submission. As well, an adjuster with Cunningham Lindsey, the firm contracted by the province to handle claims, should be in touch a week or two later.
Forsyth, who attended the meeting in Chatham, said he was impressed with how the municipality handled the flooding, including after the fact.
"What I was happy to see was that the municipality was trying to facilitate as much as they could," he said.
He was also happy to see support from organizations such as TekSavvy, the local Internet service provider.
"TekSavvy was dropping off sandbags, saying it was just part of their community service," he said. "What a community-oriented organization. They did so much."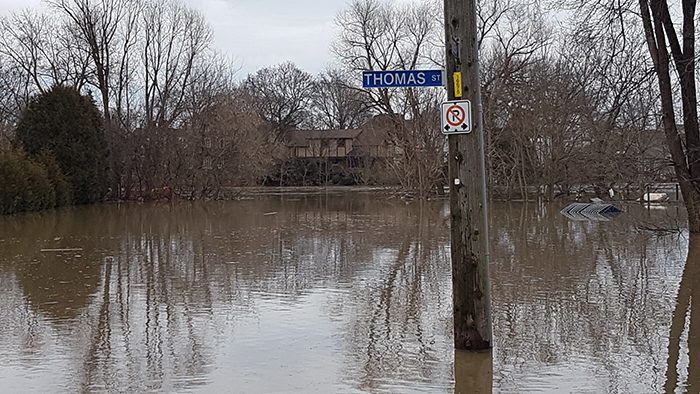 Comments
comments