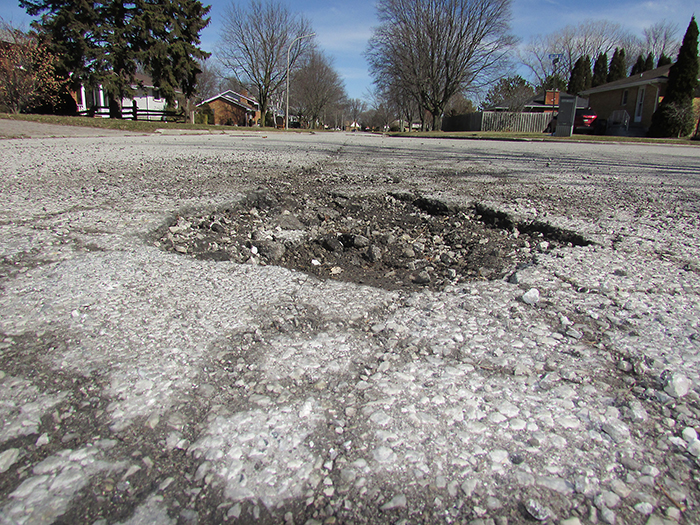 It's been a tough winter on Chatham-Kent roads, as many urban streets are strewn with potholes.
Miguel Pelletier, director of Public Works for the municipality, said crews have been out patching whenever the weather warms up.
"They are challenged to keep up with the amount of potholes coming up," he said.
The challenge comes from the freeze-thaw cycle of Chatham-Kent winters.
"Once the water gets underneath (the top layer of asphalt), then it freezes and expands. When the ice melts, and the water goes away, you are left with a gap," Pelletier said. "The asphalt can pop up or fall away, creating potholes."
He said crews use a cold mix on smaller holes that can be used even with water present. But hot patching for larger holes has to be done with the pothole cleaned up and free of water.
"As the weather continues to warm up, Public Works crews will be cold patching pot holes", Pelletier said. "Once roadways are dry and clear of winter traction materials (salt and brine), and temperatures remain consistently above freezing, our crews will begin more permanent repair process."
As for how bad they are this year, Pelletier said it's a simple formula.
"The more freeze-thaw cycles you have, the more chances you have of getting the potholes and road damage," he said.
Motorists are reminded to proceed carefully through standing water, as potholes may be hidden beneath the water. In order to maintain safe working environments, motorists are also asked to reduce speeds and obey traffic control persons when passing road crews.
Residents are encouraged to report the location of potholes on municipal roadways by phoning 519-360-1998, or by emailing CKinfo@chatham-kent.ca.
Last year, 313 potholes were reported to Customer Service.