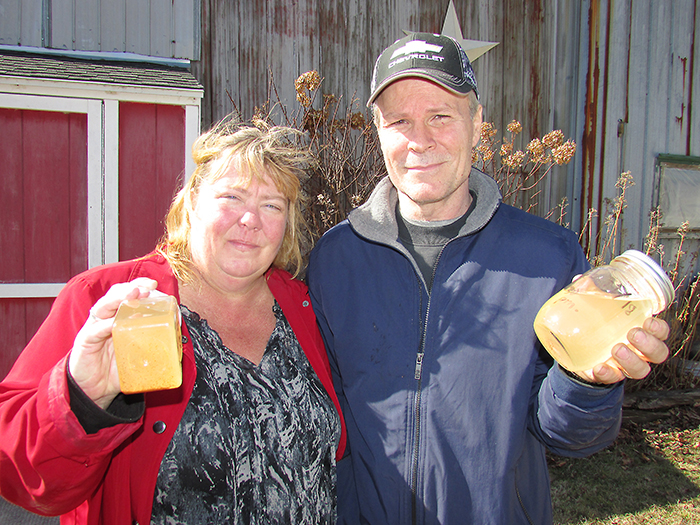 Despite having a well that's only five years old, a Caledonia Line family is without water just days after the numerous wind turbines surrounding their property went into operation.
The family property is surrounded by turbines in the North Kent Wind 1 project area and hoped they had escaped any issues with their well water when it was still fine after construction of the turbines began last summer. But last Wednesday, the turbines were put into operation, and by Sunday, the family had no water thanks to a well pump clogged with sediment. What water they could get if they took off the filter was brown and full of brown and black particles.
"Our five-year-old well is plugged up now. We have no water since Sunday and it's been four days since the turbines began running," Jim said. "Our pump's been running non-stop and we're getting no water.'
"The pump itself is at the bottom and has stainless steel screen around it. They're telling a lot of people their wells are a hundred years old, rusty and no good. Our well is only five years old; stainless steel and we have $4,000 worth of testing that told us our water is good and clear."
The couple spent $8,000 to have the new well put in five years ago, a loan they are still paying off.
"We spent the money and we had perfectly clear water with no problems at all in five years. Now we have no water. Some of the people already affected have been bringing us pails of water so we can at least flush the toilet."
Jim said they had no objection to the project when it was announced, and use solar energy.
"You see the solar panel, we are not against green energy and we didn't know anyone else had problems because those people out in Dover that have problems have a gag order. They can't tell anybody their situation. We don't have a gag order, but it's too late for everybody."
The situation for the couple isn't getting any better after the complaint process yielded a change in how the wind farm company previously dealt with complaints according to the REA permit process.
"On March 1, the Ministry of the Environment and Climate Change (MOECC) management e-mailed the Leveille family informing them that the MOECC is interpreting the REA permit conditions imposed on Samsung and Pattern, the majority joint shareholders of North Kent Wind in an inconsistent manner," Water Wells First representative Kevin Jakubec said Monday. "This new ministry interpretation of the REA permit written conditions is completely inconsistent with how the ministry oversaw temporary water was provided to a number of families during the construction phase of North Kent Wind.
Jakubec added this MOECC management decision places every single family in the North Kent Wind farm at the immediate expense and hardship of scrambling to find temporary water while the consulting engineer firm works on their opinion report to the Ministry.
"To say this is unfair and bias is an understatement," Jakubec said. "The Ministry of Environment and Climate Change clearly does not take the concerns of our community serious at all."
For the Leveilles, they get emotional when asked what they plan to do now.
"I don't what we're going to do; I don't know if anyone is going to help us. I feel like the ministry has abandoned us; our province doesn't care," Angela said while fighting back tears.
Jim said Otter Creek people are going to be the next ones, with that project almost through provincial permit process.
"If our own government not helping us, what are we supposed to do? They're the ones we voted in to help us. We have a right to clean water but they don't care. Do you see them here today?" Jim noted.
"I can live without electricity. It would be hard but I could do it. I can't live without water," Angela added. "This is my home, my paradise and now what? I had to take time off work to figure out how to get water. I have to lose money for a problem we didn't have anything to do with."
The couple anticipates that they now will have to spend thousands more dollars to test the water just to prove it is contaminated with sediment.
"I just wish the people we voted in would help us. That's all I wish. I pay my taxes," Jim said.