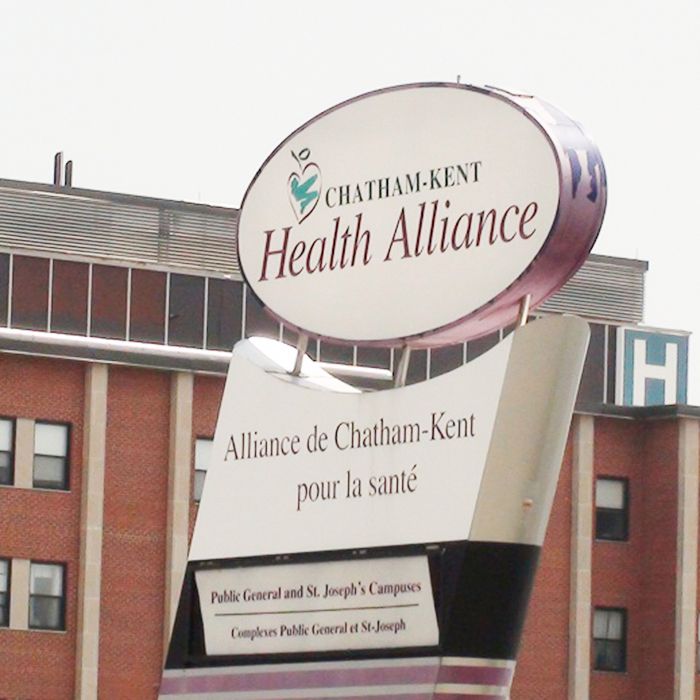 A flu outbreak at the Chatham-Kent Health Alliance has placed visiting restrictions on hospital, including the stroke/rehab unit.
According to CKHA officials, several patients and staff have tested positive for Influenza A.
In consultation with the Chatham-Kent Public Health Unit, the alliance opted put in place restrictions for patients in Medicine Unit B and Complex Continuing Care on the fourth floor at the Chatham campus late last week.
Over the weekend, the flu outbreak spread to the stroke/rehab unit, alliance officials say.
To help prevent further spread of the flu, alliance officials ask anyone not feeling well, particularly with flu-like symptoms, to not visit patients at the hospital at this time.
As well, anyone visiting patients who may have the flu will be required to wear a hospital-approved mask, gown and gloves. Furthermore, no child under age 12 can visit the compromised units at this time. Officials say it is for the child's safety and that of the patients and staff.
Flu symptoms include fever, chills, cough, runny nose, stuffy nose, sore throat, headache, muscle aches, extreme weakness and fatigue.
Visitors are asked when entering and exiting the hospital to use the main entrance only. The Emergency Department entrance is designated only for those seeking emergency services.
Visitors will be asked to wash their hands upon entrance and exit at each of the patient/visitor entrances.
All hospital services are offered as usual in other areas of the hospital.
CKHA's Emergency Departments will continue to screen patients for flu-like symptoms upon arrival.
Outpatient Clinics and elective services also remain functional.
"As influenza activity continues to increase in our community, it is important to remind everyone to take preventative measures against contracting influenza such as washing hands frequently in soap and warm water, cough and sneeze into your arm, not your hand and it's not too late to still get your annual flu shot," Lori Marshall, president and CEO of the CKHA, said in a media release.
For anyone who gets the flu, they are infectious one to three days before symptoms start, and remain infectious until five days after the onset of symptoms.
Marshall said seeing a flu outbreak at a hospital is not surprising.
"This type of outbreak is not uncommon at this time of year.  The precautions we are taking are in response to a cluster of patients experiencing these types of symptoms, and our staff and physicians are implementing various strategies to decrease the chances of others becoming ill," she said.
This situation will be reassessed daily and a decision whether to lift restrictions will be made, at which time further communications will be issued.
Comments
comments