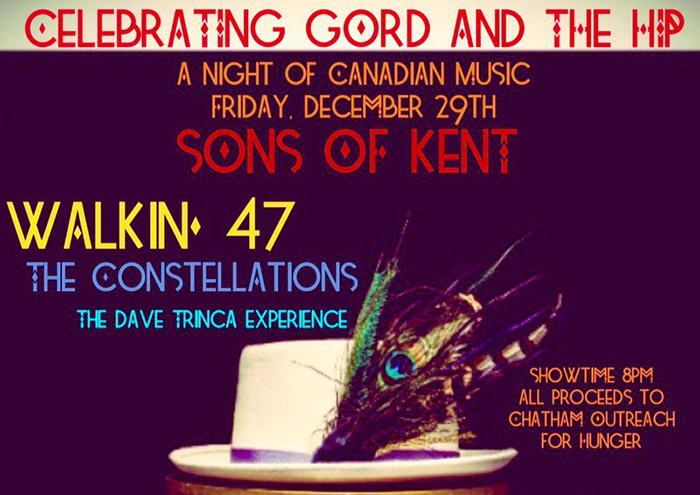 Many talented local musicians are sharing their talents this holiday season; all to help raise much needed funds for the local food bank. For this thirteenth annual Holiday Jam for Hunger, musicians from across Chatham-Kent & southwestern Ontario will be gracing the stage on Friday, December 29th at Sons of Kent Brewing Company. All proceeds from the event will go towards to the Chatham Outreach for Hunger.
This musical tradition started in 2004 and has continued every year since, organized the last six years by local musician Alysson Storey. While different community organizations have benefited from each concert, several years ago Chatham Outreach for Hunger was adopted as the annual recipient, as the need continues to grow every year. States Storey, "All of the musicians playing have strong connections to Chatham-Kent and want to support local organizations like Outreach for Hunger which is filling such an important need. I'm happy to say the Holiday Jam annual events have raised over $13,000 for local charities, which is a true testament to the community spirit here in CK."
While these musicians are serious about the cause, they're also interested in having a lot of fun on stage. This year, in light of the special impact Canadian music had on so many listeners, the theme of the night is "Celebrating Gord and The Hip: A Night of Canadian Music". The Dave Trinca Experience, will open the evening, followed by The Constellations with Rob Mitchell as lead singer. Rob is a singer-songwriter born and raised in Chatham, has released three CDs of original work and was also a finalist in the 2016 CBC Searchlight music competition. Mitchell, who now lives in Guelph, has played in the Holiday Jam almost every year since its inception with the Chatham Funk All-Stars.
Walkin47 is headlining the evening. This well-loved and talented local band of Scott Aarsen on rhythm guitar, Steve Bellan on drums, Brian Cox on lead guitar, Jason Denys on bass guitar, and Drew Varsava on lead vocals have been playing across southwestern Ontario for many years now. "I was really happy when Alysson approached us for this event," states Jason Denys of Walkin47. "We believe strongly in supporting our community and this event is a great way to do that. We're excited to be playing with these bands and this great venue too!"
Sons of Kent and an anonymous donor are generously sponsoring this year's event. Holiday Jam for Hunger takes place Friday, December 29th at Sons of Kent Brewing Company, 27 Adelaide St South in Chatham. The event starts at 8 pm and admission is by donation, with all proceeds going to Chatham Outreach for Hunger. For more event information, please contact Alysson Storey at 519-365-2129 or alyssonstorey@gmail.com. For more information on Chatham-Kent Outreach for Hunger, please visit www.outreachforhunger.com.
Comments
comments