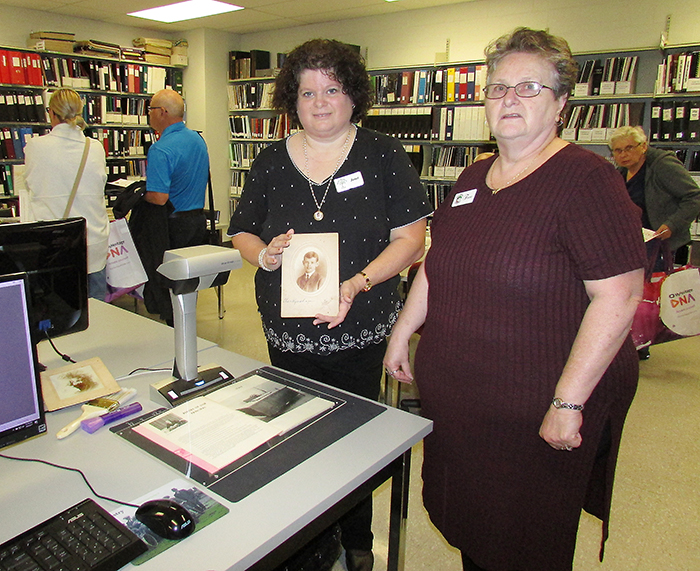 People wanting to trace their family roots have all the help they need at their fingertips at the Chatham-Kent Public Library.
Hosting a Family History Fair at the Chatham library branch recently, the Kent Branch of the Ontario Genealogical Society (OGS) had a full house, with people packing both levels of the library. With speakers, exhibits and area historical groups and authors on hand, the day included a chance to win a DNA testing kit.
Upstairs in the library is the collections section, with reams of material on Chatham-Kent history, which Collections Librarian Arlene Maris said is a great partner to the OGS room.
"People can come in and do research, with or without a library card and it's a good partnership with the OGS. Our collection is different material and the two don't overlap," Maris said.
The Kent Branch of the OGS started 39 years ago at the Blessed Sacrament School library and then moved to the library, where hundreds of family histories, marriage and death records, cemetery records, passenger lists, land and estate records and census information is located.
OGS volunteer Colleen L'Abbe said some families take the time to research their family roots and then make all the information collected available in the OGS room, which is filled floor to ceiling with historical information.
"The purpose of the OGS is promoting, preserving and gathering local genealogical information and making it available to future generations," Maris noted.
There is even a very good collection of books of French resources, plus original documents and maps, including a full-sized map of Chatham from 1922, which stops on the north side at what is now McNaughton Avenue.
L'Abbe said she found lots of information on her own family history. For many, it is fascinating to find out where your roots are and who your relatives are, and now with DNA testing, people can add clues to the search for relatives.
"People have been doing paper genealogy for years, but DNA is helping fill in gaps so they can reach out and make connections to family they might not even know they had, such as with adoptions," L'Abbe noted.
With cemetery records, OGS volunteer Janet Vanderiviere said they have records for every cemetery in Chatham-Kent, as well as obituaries, which can help people find relatives from the master cemetery list. Once you find the plot numbers, she said you can go to another card index file and find out exactly who is buried in each plot, which sometimes reveals surprising information.
"There might be a situation where one name is on the headstone, but a spouse, sibling or child is also buried in the same plot," she explained.
The inventory of information is quite extensive in the OGS room, which was recently re-organized, including some U.S. records.
"If we can't find it, we can help direct people to where they can find the information they are looking for," Vanderiviere added.
Right now, the OGS is in the process of digitizing all of the records in the room, making the information available to many more people online. Fran Brako, another OGS volunteer demonstrated the system they have for scanning information, including high school yearbooks that were donated to the OGS from the former Tecumseh Secondary School.
To find out more information about the OGS go to www.kent.ogs.on.ca/ or e-mail queries to kent@ogs.on.ca. The historical collection and the OGS room are on the second floor of the library and elevator access is available.
Comments
comments