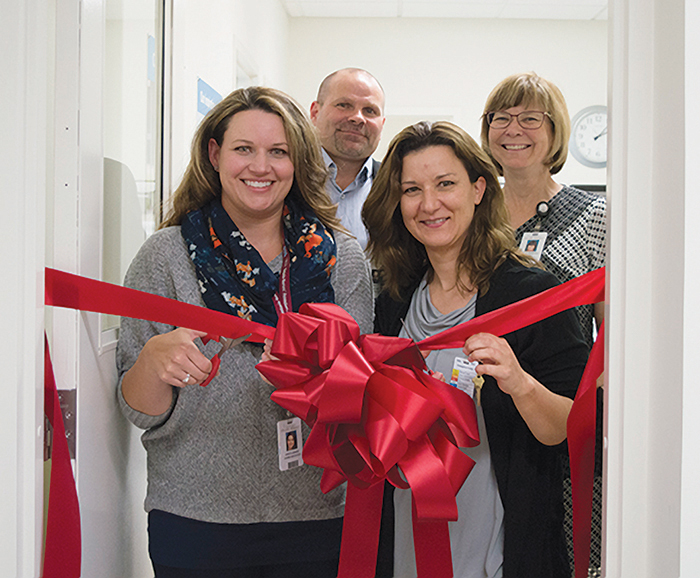 Chatham-Kent Health Alliance's (CKHA) Diabetes Education Centre has a new home in Chatham.
As of Sept. 1, the Diabetes Education Centre will offer its services at 47 Emma St. – located on the corner of Emma Street and Ursuline Avenue on the east side of CKHA's Chatham Campus.
"This newly renovated space gives us the opportunity to offer an accessible and welcoming environment to clients of our Diabetes Education Centre," said Shane Helgerman, Director, Medicine, Critical Care, Chronic Disease Management, Indigenous and Rural Health Programs. "Our patients and their families will continue to receive high quality diabetes care and education from our dedicated inter-professional team."
The new space offers a separate waiting room for patients upon entrance and boasts a modern look and feel. The client entrance will be located on the west side of the building and can be accessed by stairs or an accompanying accessibility ramp.
Patients who currently attend the clinic will be given directions to the new location when they receive their next appointment reminder. A map of the new location will also be posted in the previous Diabetes Education Centre located in the Public General Hospital wing of CKHA's Chatham Campus to notify patients of the move. Gated parking will be available for clients at 47 Emma Street. Municipal parking is also situated on and around the property.
CKHA's Diabetes Education Centre offers supports for people living with prediabetes or diabetes. Services include one-on-one or group consultation on monitoring blood sugar levels, medications, healthy eating, exercise, and other lifestyle choices.
"Diabetes is very prevalent in Chatham-Kent and can result in a number of major health issues," said Dr. Linda Sinnaeve, Endocrinologist. "Individuals with diabetes require ongoing guidance and support to help them manage this disease. In this modern and updated environment, the dedicated and talented staff of the Diabetes Education Centre will continue to provide high quality, patient-focused care."
The Chatham-Kent Diabetes Outreach and Mental Health Diabetes Outreach Clinics will continue to operate out of their current locations. CKHA's Diabetes Education Centre can be reached at 519-437-6086, Monday to Friday from 8 a.m.-4 p.m.