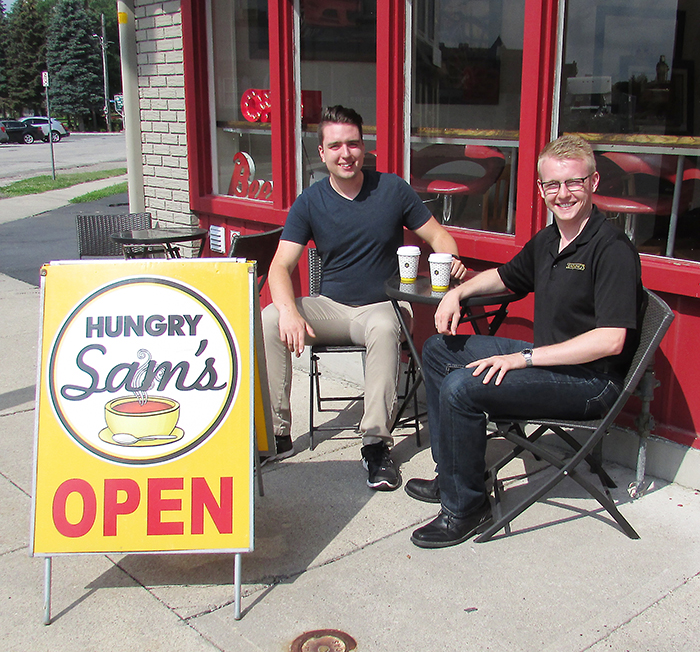 People help their neighbours. It's that simple, according to Jacob Rowe of Dennings of Chatham Funeral Home.
The neighbour in question for the Victoria Avenue business is Hungry Sam's restaurant, located just around the corner on Thames Street. With the Fifth Street Bridge under construction, foot traffic to the restaurant has died off, so Rowe wanted to draw attention to that fact, and posted to social media, saying Dennings would buy coffee for the first 100 people to stop by Hungry Sam's on Aug. 2.
Sam Butler, the name behind the restaurant, said the promotion was greatly appreciated.
"We've definitely lost the downtown foot traffic. It's definitely mostly drivers now," he said of their patrons. "It (Dennings' promotion) was super helpful. People realize it's easy to try out a local restaurant."
It also went over very well.
"People were even coming in and buying coffees or lunch. They didn't want the free coffee. They just saw the post and wanted to stop by," Butler said.
As for Rowe, he said the social media promotion just seemed like the right thing to do.
"There are a lot of parallels between their business and ours – it's family run and a young guy is at the helm," Rowe said. "But unlike ourselves, their business is impacted by the walking traffic. I wanted to help get a few people through the door.
"It's a good local business. We're all going to face the challenges with infrastructure," he said of the bridgework. "It will get better. In the meantime, we can all help each other get through it."
Rowe met Butler shortly after coming to Chatham a year ago, and enjoyed what Butler's establishment has to offer.
"I go there at least a couple of times a week. It's good food," he said. "I can point people in that direction."