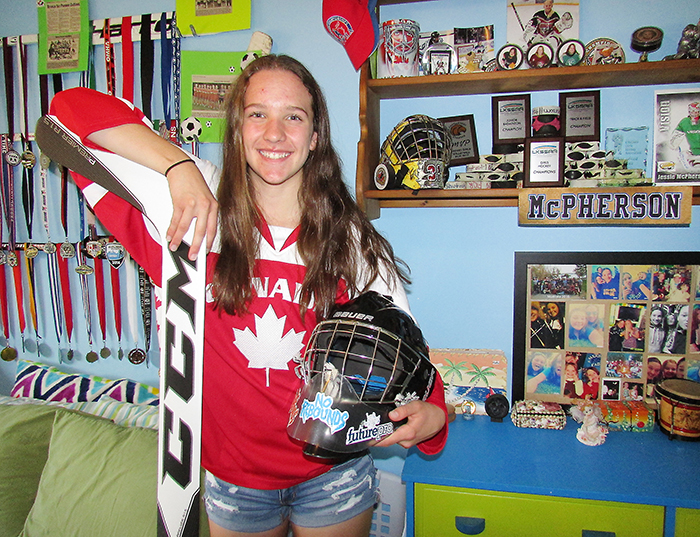 Hockey has been a big part of Jessie McPherson's life since she was four years old; and now, at 14, she has the opportunity to take her hard work and dedication to the sport to a new level.
The Chatham goalie, who most recently played travel hockey and with her high school team at CKSS, has been offered a position between the pipes in the Ontario Provincial Women's Hockey League for the Cambridge Rivulettes.
As one of the youngest players on the 17-player roster for Cambridge, McPherson said she is excited about the opportunity to play in the PWHL, but also nervous about what to expect, with players from ages 14 to 20.
"I don't know what's going to happen but I am really excited right now," McPherson told The Chatham Voice. "I know I'm young to be asked. I was asked to go to Bluewater, which is a great team, but I was really impressed with what Cambridge had to offer. They have off-ice training, psychologist availability and education mentors to help keep us on track."
The goalie just finished Grade 9 at CKSS, helping her team go the farthest any CKSS team has ever gone. "
"We made it to the SWOASSA finals where we fell short 1-0 in the fifth overtime," McPherson explained.

"I started playing hockey when I was four years old with a co-ed team. I played travel hockey with a select team the next year and continued to play with them for three years until a AA travel league was available in my age group," she said. "By my third year playing hockey, I was the lone girl on the team. The year I turned eight in December was the first year I was introduced to AAA hockey as an AP goalie for the age group a year older (boys' 9-10 years old). In the mean-time, I continued to play AA boys', collecting many MVP awards and eventually helping my team go on to win the OMHA championship in 2010-2011.
"With that accomplishment, the boys and I were ready to tackle AAA hockey," she continued. "Our first year in AAA we were championship finalists. I played AAA for three years and went back to AA boys' as well as playing occasionally as a "developmental player" for the girls' team which I helped win a Bronze Medal in the Provincial Championships.
"The following year I played Bantam AA Outlaw hockey with girls a year or two older than me. This brings me to my latest season of Midget AA hockey where I played with girls that aged out at 18 this year. Our team were the underdogs of the provincial tournament but I still brought them to the bronze medal game. Our team unfortunately fell short that game but I still came out a winner because that's where my current coach saw me play, which resulted in my invite to tryouts and eventual signing with the Cambridge Rivulettes," McPherson said in her bio.
Cambridge coach Geoff Haddaway said while they weren't looking at Jessie at first, she caught his attention, and was encouraged to take a second look at her play.
"We were looking at a teammate of Jessie's that ended up playing with us. It was the first time I noticed her and I knew she was young, but moving forward, I knew we needed a goalie. When you're looking at teams from quite a ways away, you really don't think that player is going to be able to move away," Haddaway explained. "Someone gave me a heads up to go watch her again and I watched her at provincials and all the way through provincials. She had a great tournament; a great playoff for the Chatham team.
"We just thought after getting to talk to her a little bit, doing a little homework on her, we saw that her mental makeup was mature enough and strong enough. It's not going to be easy for her next year moving away from home, but we thought if anyone can handle it, it seems like Jessie has the make up to handle it."
For her parents, Nate and Sandy McPherson, this opportunity for Jessie is one they couldn't pass up, despite the expense involved.
"We're really excited; we split our goalies, we always have and have a pretty good history of good goaltenders. We have two new goaltenders coming and we're looking for Jessie to grow her game. She's young and will be with us for a while," Haddaway said. "You don't like to put labels on kids because it's not fair; she's young kid, but if she does that, I would say she has unlimited potential, and people, I think, are recognizing that. If Jessie keeps working hard, and when athletes take care of the things that the athlete can, then good things usually end up happening.
"We try to get a really good picture of the person. We can judge the hockey, it is the easiest part of the job, talking to people who know her; her coaches, even her goalie coach, about whether she can handle it and people are saying if anyone can do it, it's Jessie."
Her parents have supported her since she started in hockey with many goalie camps and goalie coaches, along with off-ice training to help her hone her skills.
"She does a lot of training on her own. She's mature for 14 and very disciplined," Nate said. "Anyone who has worked with her on the ice talks about her discipline and determination."
Jessie's mom is also very impressed with Cambridge and the supports in place to help Jessie excel not just on the ice, but academically and working to her future goals of a scholarship.
"They have an education mentor that keeps them on track because the idea is to get the girls scholarships too; they work with the girls and help them contact schools, so that's a priority for them too. They know what Jessie's goals are and they are going to help her attain them. That was the biggest selling point for Jess," Sandy noted.
The costs, however, involved with Jessie's move to Cambridge include billeting with a family in Cambridge, travel and hotel costs from Windsor to Ottawa, and equipment which will quickly add up.
Haddaway explained that unlike male players in the OHL that are sponsored and get gate receipts and merchandising, women's teams in the PWHL find sources of income for players and teams are limited to families, fundraisers and whatever sponsors they can find.
Jessie has a gofundme page to help her and her parents offset the costs and hopes that sponsors will see her potential and help her reach her ultimate goal of Olympic women's hockey.
"I am very hopeful for a successful season this year. I have worked extremely hard off and on the ice to get this far and I hope this is just the beginning. My education is also very important to me and I work hard in school, aspiring to receive a hockey scholarship and play at a University level while I work towards a degree in medicine," Jessie explained in her bio. "Ultimately, my goal is to wear a Team Canada jersey and represent my country in a national tournament and eventually the Olympics. I truly believe that this year is the stepping stone to get me there."
Anyone who is interested in sponsoring Jessie or contributing to her gofundme page can go to https://www.gofundme.com/41mqips or contact Nate McPherson on his Facebook page to find out about sponsorship packages, from game-day program ads to bronze, silver and gold sponsorship package opportunities for businesses or individuals. Jersey sponsorship and web page ad spots are also available.