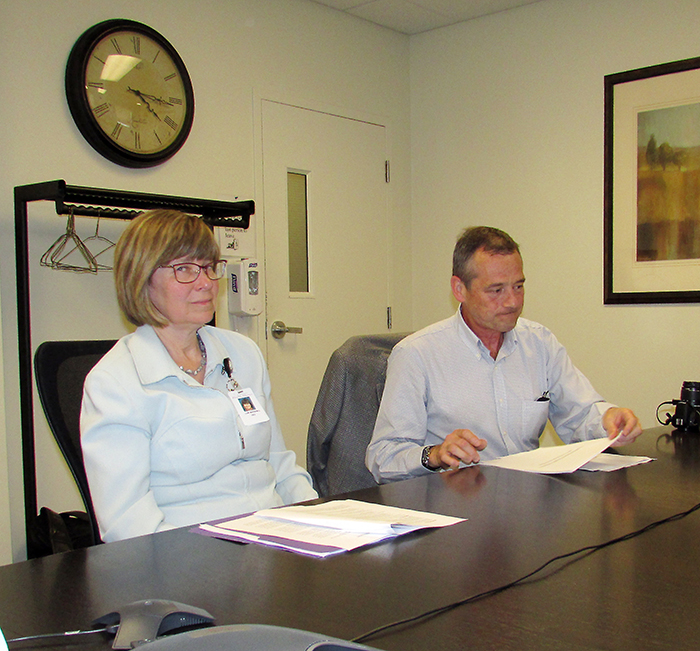 As changes continue at the Chatham-Kent Health Alliance, the overseers plan to cut staff, but say they will still be able to improve patient care as well as increase spending for needed medical equipment.
The plan is to cull 26 full-time and 15 part-time positions at the alliance. Rob Devitt, provincially appointed supervisor for the alliance, and Lori Marshall, president and CEO of the CKHA, said the cuts would mostly come through attrition. Others will come via retirement package offerings.
The CKHA goes through an annual churn of about 70 staff a year, Marshall said, so as some people leave, they will not be replaced.
Cuts have already taken place at the top, Devitt said. Overall there has been a 22-per-cent reduction in management positions, as 19 jobs were eliminated.
He said the physicians led the way in the effort to increase efficiencies, as there are now fewer physician leaders with lower compensation packages.
Along with other improvements, that led to the alliance saving about $2 million annually.
While the pending job reductions may have some staff worried about their future at the alliance, Devitt said the level of anxiety among alliance staff currently is unwarranted, but understandable.
"We're talking about people's jobs," he said. "But at the end of the year, things will be a lot smoother than what people are thinking now."
Dr. Pervez Faruqi, chief of staff, believes the physicians are on board with the changes.
"Physician leaders took the lead with this transformation. They helped start the restructuring process," he said. "The new level of transparency and honesty has physicians very pleased and satisfied.
"Better care, better patient experience – there's a good feeling among the physician group."
Dr. Anthony Dixon, head of the emergency department, agreed.
"There's renewed energy and that reflects on improved performance," he said.
The cuts will result in repositioning of personnel and changes in work flow, which will increase service to patients, Devitt said.
He said when he arrived 10 months ago, the CKHA was in a "precarious position" in terms of spending.
"As we have said, the alliance doesn't have a funding problem, we have a spending problem," he said.
That problem is shrinking.
This past fiscal year, which ended March 31, the alliance managed to reach a "ministry balanced position," Devitt said, explaining that occurs when revenue and expenditures balance out (but not including building and equipment depreciation).
"It's only the second time in seven years that the CKHA did that," he said. "We want to finally hit the proper balance this year."
And that is to be able to offset the depreciation, plus have some wiggle room to purchase needed equipment. When that is achieved, Devitt said the alliance would be able to better focus on patient care as well.
"We want to ensure every dollar spent is done in the most efficient way possible," he said.
The effort is to find an additional $3 million in annual savings, Marshall said.
The alliance had consultants come in and do a comparison in how it operated when compared to other similar-sized health-care facilities.
"There were hospitals that had better cost effectiveness and were getting better results," he said.
In terms of increasing efficiencies, Marshall said it is simply a matter of matching funding to patient levels.
"Some areas of care have staffing levels higher than compared to elsewhere. We can move the funding into greater areas of need," she said. "An example is in the women's and children area where occupancy levels are below 60 per cent, yet we're fully staffed. We can make changes and still provide the same or better quality of care."
Shifting of resources will also result in shorter wait times for joint replacements at the alliance. Already known as one of the best places to come for hip and knee replacements in the province, local orthopedic surgeons will be able to do 73 more knee replacements a year and 14 more hip replacements with adjustments in funding, Marshall said.
Ambulatory and outpatient care – ways to divert traffic from the emergency department – will receive boosts.
"The focus is more on ambulatory care and less on bedded care. A commitment to a culture of performance and accountability is what you are seeing," Marshall said. "We will continue to look for opportunities as they arise. We want to keep abreast with best practices."
Devitt said comparisons to other hospitals indicated change would yield large dividends.
"We used third-party benchmarking to see how we stacked up against similar hospitals. If we got to a little better than average, we could save $12 million a year," he said.
Instead, the immediate target is $3 million.
Devitt said the changes don't take the alliance into unchartered territory.
"There is nothing in this plan that hasn't been done elsewhere in Ontario. This is all about providing great patient care," he said.
Marshall said the alliance plans to invest up to $1 million in equipment this fiscal year. Devitt said it's needed.
"We've had a history of running equipment into the ground and them some because we've had no money," he said.
Candice Jeffrey of the Foundation of the Chatham-Kent Health Alliance, said the uncertainty of the past 10 months has negatively impacted the foundation's fundraising efforts, but there has recently been an uptick.
"The changes have had an impact. We're below budget, but we're feeling renewed confidence with our donors. They're recognizing the transparency (of hospital administration), she said.
Jeffrey added another $2.5 million is needed by the end of March 2018 to complete the diagnostic imaging fundraising effort. That campaign's total goal is $6.9 million.
Devitt said he understood early donor reluctance when he was tasked with cleaning up the alliance's operations last year.
"We have to prove the money will be well spent," he said. "We needed to stabilize the ship, had to solve the spending issue and change the culture."
Devitt said he anticipates being needed until the end of the year, as he's still developing a governance plan.
"Local governance is so important. The goal is to have a highly functioning team with a board that's providing high-level oversight," he said.