JoAn Dale topped a list of three-dozen very caring local people to earn the 2017 Chatham-Kent Seniors' Achievement Award.
The Chatham woman was close to tears as she walked to the stage at the annual Seniors Information Expo June 16 at the Blenheim Recreation Centre.
Dale volunteers on various organizations, including the Alzheimer Society, Zonta Club, Dickens Fellowship and Helping Hands Auxiliary. She is also a volunteer at the Boutique Grand Gift Shop at the Chatham-Kent Health Alliance, and is involved in a number of hospital fundraising initiatives.
Karen Herman, chair of the Seniors Expo, said the selection committee has no easy task.
"When it comes down to the selection, it's very difficult for the committee to decide. There are so many deserving candidates," she said. "For JoAn, the different service clubs and many clubs she's been committed to made the difference."
In terms of the number of worthy nominees, local MP Dave Van Kesteren went one step further.
"It's wonderful to honour those who have made special contributions. So many could receive an award," he said. "Volunteers make such huge contributions to our community."
Rick Nicholls, MPP for Chatham-Kent Essex, agreed.
"Without volunteers, many organizations would not be able to survive due to funding issues," he said.
Dale said she has lived in Chatham-Kent her entire life and loves it here.
"It's only appropriate to give back to your community, which is what I try to do," she said.
She credited the help of countless others as well.
"None of us do anything alone. There is always a team," Dale said.
Her fellow nominees came from across the municipality, from Highgate to Merlin and from Wallaceburg to Erieau.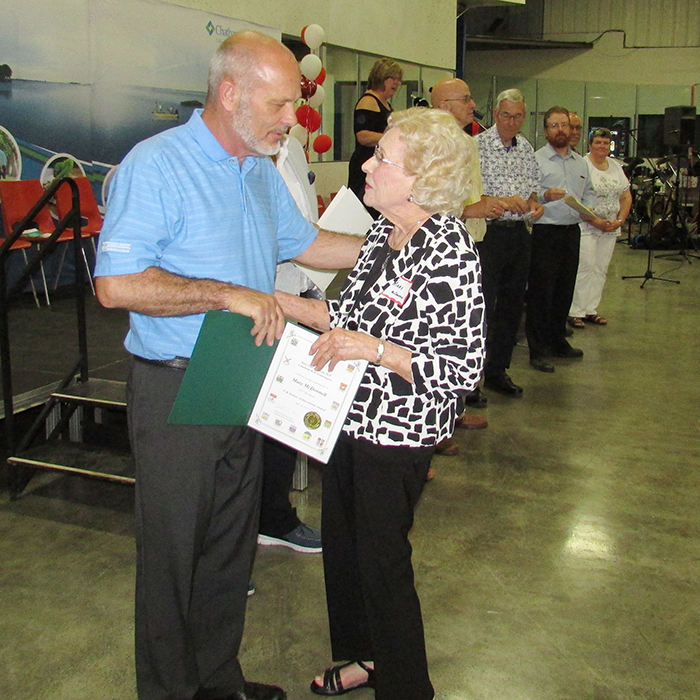 Local MP Dave Van Kesteren hands out a certificate of recognition to Mary McDonnell, who is nearly 96 years of age. Mary was one of the key people who started the Active Lifestyle Centre in Chatham in 1970.
Comments
comments