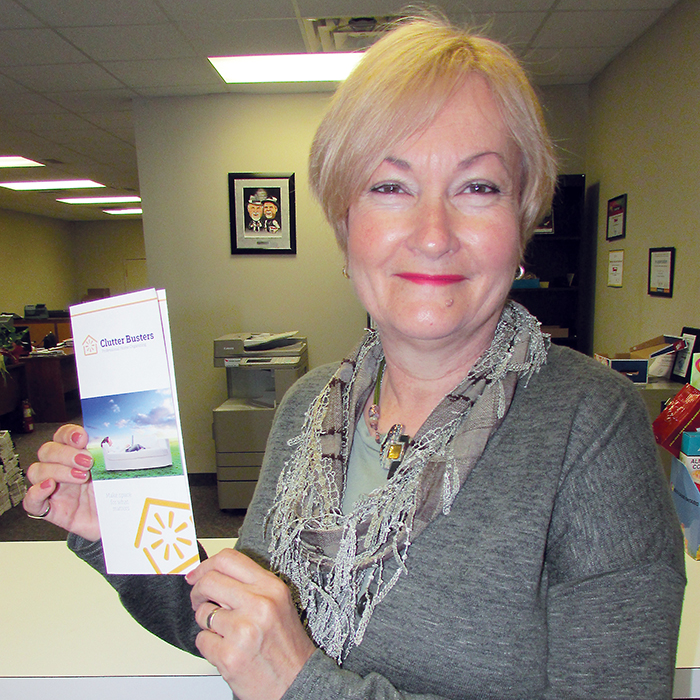 When you have a gift that translates into a career doing something you love, you are a fortunate person. For Sue Hawkins, her passion for helping people and organizing has turned into a career as a professional organizer and she created her business, Clutter Busters.
With her experience as an interior designer and her passion for organizing, Hawkins said she loves nothing better than walking into chaos and helping people make sense of it, especially when they are downsizing for a move, blending households or just wanting to get their house in order.
For older adults who are downsizing, the job can be particularly daunting after collecting almost of lifetime's worth of possessions, collectibles or memorabilia.
"Downsizing at the best of times can be such a stressful event. And it's even harder when one has accumulated a lifetime of memories inside our four walls. What do we keep? What do we sell? Why don't my kids (and grandkids) want it? After all, I worked hard and these possessions are valuable…or are they?" Hawkins noted.
She said these questions are becoming more and more common as seniors realize that we don't just own lots of stuff…our stuff has begun to own us.
"We have to clean it, maintain it, upgrade it, and find space for it. It's not surprising that so many folks become overwhelmed and just opt to have one big garage sale and purge the whole mess when they decide to move. This is also why NAPO (National Association of Professional Organizers) which began in 1985 with 16 members, now has over 4,000 members in 32 chapters in 22 countries."
Hawkins understands it's frustrating searching for your keys, wondering why Tupperware lids have babies, or weeding through closets trying to find something to wear. And it even becomes dangerous when we begin tripping on our stuff.
"As we age, sometimes decision making becomes more difficult. Clutter is simply delayed decision-making. But clutter isn't just about the stuff on the floor. Clutter is anything that comes between you and the life you want to live. As we age, our lifestyles and tastes change. We may no longer need our bread machine, rolling pin or weed whacker. Or we may decide to finally take up cooking or gardening, so having these things is important," Hawkins said.
One thing people tend to think, Hawkins noted, is that professional organizers will try to pressure you into purging, but she said that is not the case.
"We walk you through the process and if you can't decide, those items go into a separate pile with an expiration date. If that box is not opened in six months for example, the box gets donated. And in 99.9 per cent of the cases, the box doesn't get opened," she said.
When dealing with loved ones going through a downsizing, Hawkins said it is important to respect their thoughts and wishes.
"Be gentle. Ask questions like do you need it, do you love it, do you have space for it, and don't pressure them," she advised.
Some bigger or more strenuous tasks also be hired out, like hiring a cleaning lady, to give them the mental space to focus on what they want in their new living space.
Hawkins said organizers have an acronym that helps our clients through the downsizing process. It's called SPACE:
S – Sort your stuff into similar piles. For example, yes you love your black T-shirts, but do you need/wear 30 of them? Gathering like-items in one place will help you realize just how much of it you have.
P – Purge. This is the most difficult part. Here are some questions to ask yourself when through the process: Do I love it? Do I need it? Is there anything I can use instead of it? Will someone else enjoy it more than me? Do I need the memorabilia to have the memory?
A – Assign a place for it. Put things near to where they're most used. For example, Hawkins highly recommends having a "landing strip"- a place where you put your keys, mail, purse, lunch boxes, coat, etc. right inside the front door.
C – Contain. There are containers for every budget from dollar store bins to upscale cubbies that suit your decor. Once the container is full, and you want to add more stuff… then it's time to employ the "one in-one out" rule.
E – Evaluate. The decluttering process isn't a one-time affair. Like lawn care, you do it when you need it.
She added that taking inventory of your stuff now will save your loved ones the angst of going through your items when you're gone.
"My aunt passed away suddenly at 76 and her sister was left with the huge task of clearing out her home. She said she "felt guilty" at becoming increasingly mad at her beloved sister for leaving her to deal with her townhouse full of stuff."
Hawkins can also help you sell your treasures on sites like e-bay or kijiji or re-purpose items so you can turn your prized heirlooms into items that your kids will actually cherish.
"My business tagline is, 'Make Space For What Matters.' Less stuff equals less work equals more time to enjoy what matters to you in your retirement. A healthy environment – having things stored in spaces that are easily accessible means that you can stay in your home and enjoy it longer."
For people with dementia, Hawkins said it is helpful to organize items in easy-to-reach boxes or bins, clearly labelled with a picture, as well as words to help them find things easily.
For more information and a listing of services, call Hawkins at 519-401-3052 or email at sue@clutterbusters.me. Also, you can check out her website at clutterbusters.me.
Comments
comments