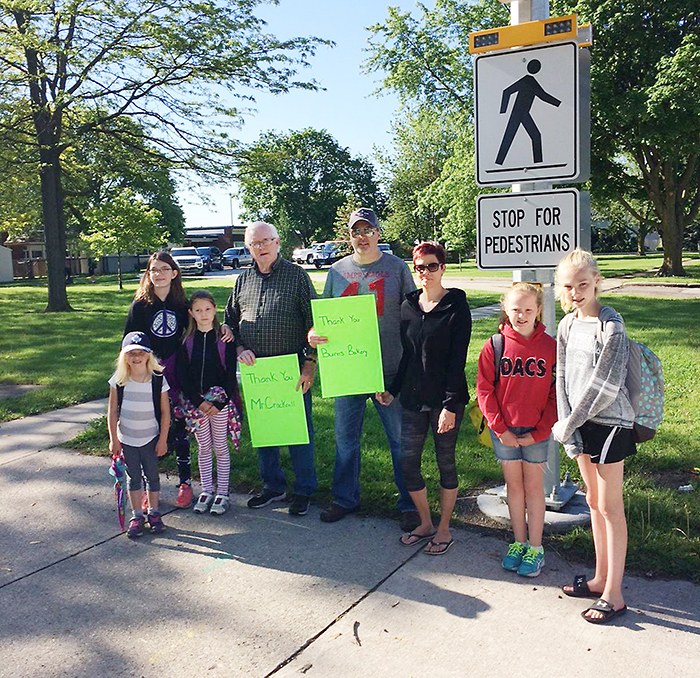 A grateful community took the time to thank Dresden crossing guard Jim Cracknell and the businesses that put up money to pay his salary for seven months after the municipality removed all crossing guards to put up unmanned crosswalks.
Jenelle Jackson-Finley is a Dresden community member who was extremely vocal throughout the decision by the municipality to remove all crossing guards from their posts.
"With much debate at council, they agreed to having traffic studies conducted and the areas which qualified had crosswalks installed and those are finally now functioning.  There was however, a gap in coverage as the crossing guards were dismissed and it took months to have these crosswalks installed," Jackson-Finley told The Voice.
She said for Dresden, local business owners – Rob & Erin Burnett of Burn's Bakery – offered to pay the salary of the local crossing guard Jim Cracknell so he could remain on the job until the crosswalk devices were completed and functioning.
"As a community, we wanted to thank both the business owners and Mr. Cracknell for keeping our children safe and there are students at Dresden Area Central School who have made large handmade for them to thank them for their generosity," she added.
Other businesses that also contributed to Cracknell's salary were, McFadden Ag Commodities, Lost Time Hot Rod Choppers, Mary & Rupert McCorkle and Bonnie & Dale Crittenden – in addition to Burn's Bakery and Beyond Gifts & Decor.
"I believe those members of the community who took the initiative to keep this imperative service in place until the crosswalk lights were installed and functioning should be thanked," Jackson-Finley said. "It was upsetting to know that even though a traffic study was conducted that showed the roadway is heavily travelled, they (the municipality) still opted to eliminate the crossing guard and leave that roadway unattended for seven months until the lights were installed."